Spark Hire Review – The best Video Interview Software?
Spark Hire is a web-based video interviewing platform designed for HR departments and teams, hiring managers, and staffing professionals of companies and organizations of all sizes. Described as a simple and easy to use video interview software, Spark Hire streamlines the screening of candidates and hiring process by enabling candidates to create and record videos, answering pre-defined sets of interview questions or to engage in real-time live video interviews.
==>> 50% OFF Spank Hire Bronze Annual Plan <<==
Spark Hire eliminates the conducting of phone interviews as part of the process of interviewing and shortlisting candidates. Pre-recorded video interviews created by candidates and live video interviews recorded by HR staff can also be evaluated quickly by allowing users to add ratings, comments, and tags on them. The video interview software is equipped with sharing capabilities, enabling users to easily share video interviews with their hiring managers. Furthermore, Spark Hire enables users to easily schedule candidates for interview.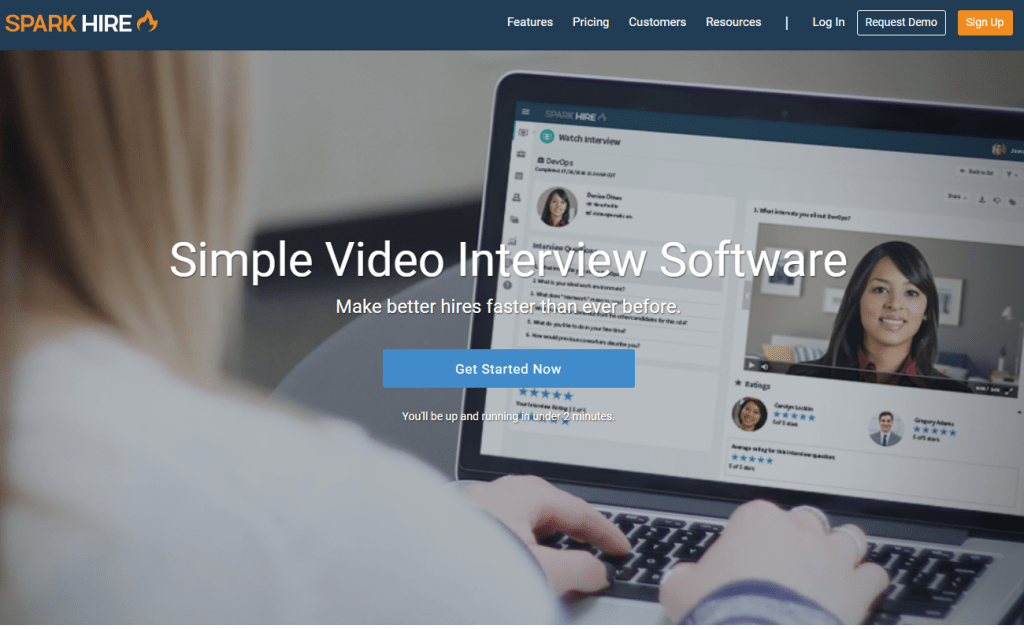 Spark Hire Review – Benefits
Spark Hire introduces two options on how recruiters and HR staff conduct interviews to come up with a shortlist of candidates. One of these options is referred to as one-way video interview. In this option, candidates self-record their answers to interview questions. They can create video interviews using a computer with a webcam or through Spark Hire mobile apps in case a webcam is not available.
Video interviews are produced based on the requirements specified by the HR department or recruitment team. Hence, users will be able to create sets of interview questions that candidates need to answer in their video interviews. They can also indicate how long the answers of the candidates can be, how many times they can attempt to answer the questions, and how long they can think before recording their answers.
The sets of interview questions can be saved as templates for similar interviews in the future, allowing users to be consistent in conducting interviews using this particular option. In addition, candidates can create video interviews whenever they are available, providing them flexibility in choosing a time or schedule they are most comfortable with.
The other interview option offered by Spark Hire is called live video interview. Here, the HR staff or recruiter conducts real-time video interviews with the candidates through a web browser. In this option, users need not to download and install desktop applications or any applications that have a video chat functionality. They can also record live video interviews while they are conducting them. In addition, users can ask assistance from Spark Hire's support team which is built to offer help to ensure that settings are configured properly for the staff and the candidates before the interview.
Since the purpose of video interviews, whether live or self-recorded, is to quickly shortlist candidates, Spark Hire offers powerful functionalities which enable users to easily evaluate video interviews and determine the candidates who will advance to the next stage of the hiring process.
Users can shortlist their candidates by rating their video interviews. They can rate video interviews using a 5-star scale. Moreover, video interviews can be shared with the other members of the recruitment team, allowing them to provide their own ratings. Hence, a team rating will determine which candidates will be shortlisted. In addition to ratings, users will also be able to post their comments for video interviews.
Spark Hire also provides a functionality which allows users to document the reasons some candidates won't be able to advance to the next round or stage of their hiring process. They just simply have to select the reason from a drop-down list. This list is customizable, so users can add as many reasons as they want. The platform, moreover, enables users to send email to rejected candidates. This helps them explain to their candidates why they are not qualified for the next round of the hiring process, providing them with a learning experience they can use positively for future job opportunities.
Spark Hire Review: Features
One-Way Video Interview
Live Video Interview
Video Interview Control and Restriction
Conduct Interviews From Web Browser
Concierge Support
Eliminates Phone Interviews
Interview Evaluation
Rates and Comments
Facilitate Discussions
Video Interview Tags
Document Candidate Rejection
Email Rejected Candidates
Interview Collaboration
Interview Scheduling
Calendar Integration
Scheduling Link
Custom Scheduling Page
How Much Does Spark Hire Cost?
Spark Hire offers several monthly and yearly SMB and enterprise pricing plans for users to choose from. Give the details a look, and select the best plan for your recruitment firm or team.
Spark Hire Monthly Plans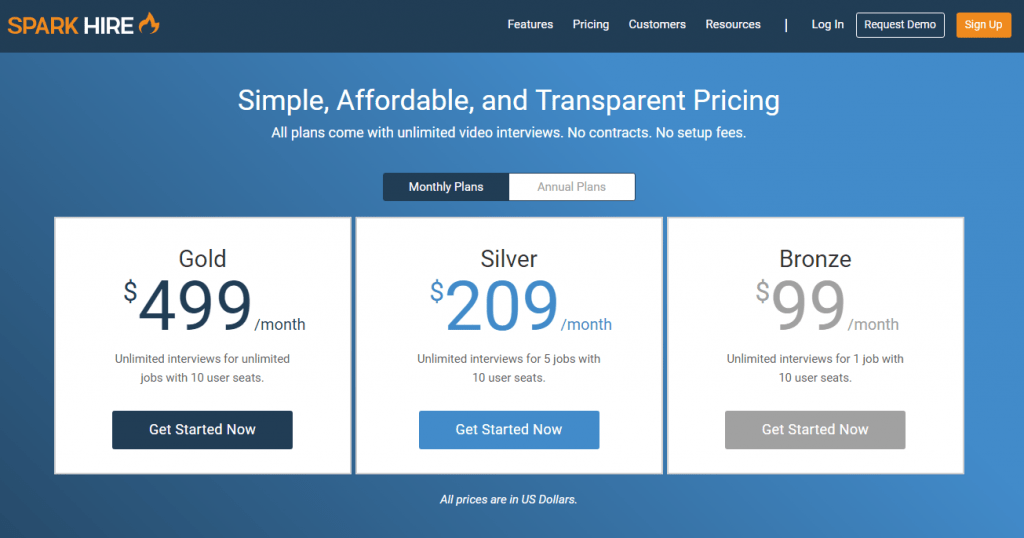 Spank Hire Bronze
$99/month – BUY NOW
Unlimited Interviews for 1 Job with 10 Users Seats
Spank Hire Silver
$209/month – BUY NOW
Unlimited Interviews for 5 Jobs with 10 Users Seats
Spank Hire Gold
$499/month – BUY NOW
Unlimited Interviews for Unlimited Jobs with 10 Users Seats
Spark Hire Annual Plans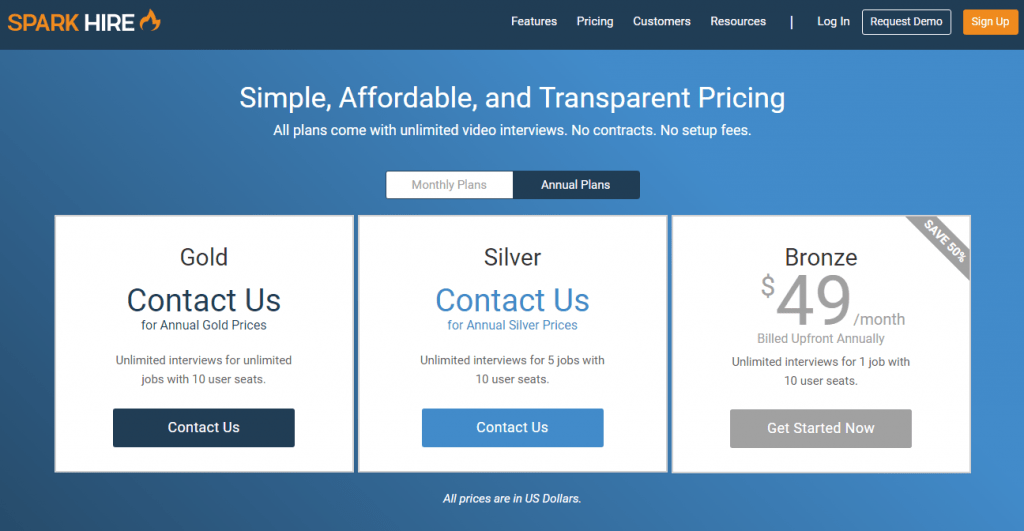 Spank Hire Bronze
$49/month – BUY NOW
Billed Upfront Annually
Unlimited Interviews for 1 Job with 10 Users Seats
Spank Hire Silver
Unlimited Interviews for 5 Jobs with 10 Users Seats
Price: Contact vendor
Spank Hire Gold
Unlimited Interviews for Unlimited Jobs with 10 Users Seats
Price: Contact vendor
Spark Hire Coupon & Offer
Currently, there is no active Spark Hire coupon code but you can save 50% OFF on Spark Hire by purchasing Spank Hire Bronze Annual Plan.
Don't forget to subscribe to Spank Hire newsletter to get special offer