WooCommerce One Click Upsell Funnel Pro Plugin from MakeWebBetter
WooCommerce  One-Click Upsell Funnel Pro from MakeWebBetter helps merchants to make post-purchase offers that users can buy in one click without re-entering payment details. Create product-specific offer pages, accept secured payments via widely accepted payment gateways, pre-defined offer templates to be used readily. It also supports major page builders that lets you create custom and responsive upselling pages.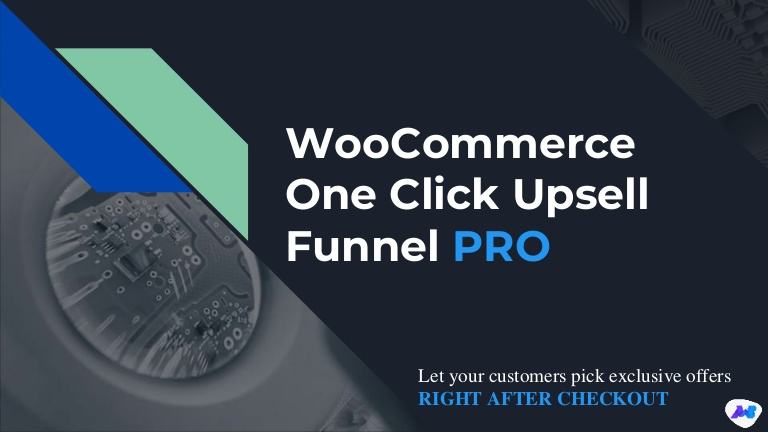 BUY NOW | LIVE DEMO | DOWNLOAD
WooCommerce One Click Upsell Funnel Pro Plugin Overview
WooCommerce One Click Upsell is effective as it resolves customers' issues. Let's look how
Make offers to a customer, not to a user: One-Click Upsell offers the upsell product to a customer that has already purchased a product from you, not to a user who's still not sure what to buy.
Reduce Customer's product hunt: If a customer purchases an iPhone, One-Click Upsell can offer a case, which he may browse in future. It takes off the browsing burden from a buyer.
Pre-purchase offers can confuse customers: Offering pre-checkout upsells to the users who are still making his buying decision can confuse them which may lead to cart abandonment. Upselling reduces this chance by offering post-checkout offers.
It allows you trigger the perfect offer: When a buyer has purchased a product, you know what product he's bought. This helps you make the perfect upsell offer that complements the initial buy.
Control User's After-Upselling actions: You can redirect customers to second upsell page if they accept the first one. If they decline the upsell, you can send them to a downsell offer with more discount which increases the chances of convincing them to accept the offer.
Track funnel performance with upsell reporting: You can track the performance of all your funnels with the upsell reporting feature. This feature lets you track the conversion, sales, revenue every funnel is bringing to you in tabular and graphical format.
Order tracking on Google Analytics and Facebook Pixel: This feature lets you track the sales of your upsell and parent orders. Also, it provides you with accurate data or initial and upsell product that helps you analyse the sales effectively.
Lift specific product's sale with global funnel: You can create a global funnel that doesn't depend on any target product or category and triggers for all the purchases.
Create exclusive offer funnels: This feature lets merchants create exclusive offer funnels that are triggered once for every unique email.
Post-purchase upgrades to push order value: The Smart Upgrade offer feature offers an upgrade product for the parent product when the checkout is done. As soon as they accept the offer, it replaces the existing product with the upgraded product.
Pre-defined Offer Templates: The plugin comes with 3 templates for the post-purchase upsell offer pages that are completely customizable. The templates can be customized only if you've installed Elementor in your WordPress environment.
Custom Pages Using Shortcodes: The WooCommerce One Click Upsell Funnel provides some advanced shortcodes to design custom post-purchase upsell offer pages. You can use shortcodes if you're not using Elementor in your WordPress environment.
Top Features of WooCommerce One Click Upsell Funnel Pro Plugin
Post Purchase – Special One time Offer: With One Click Upsell for WooCommerce, you can make a special one time offer after the checkout is done. Offering a post-purchase upsell has more chances of sales because the customer has already purchased something from you. Moreover, post-purchase offers are less distracting and add more value to the customer's initial purchase which also increases the customer engagement.
Target Product Category to Trigger Offers: You can trigger your special upsell offers as per the category of the target product. For example, you can create an upsell funnel that will be triggered whenever a customer purchases a product from the Clothing category. So if anyone purchases a product that belongs to the Clothing category, your funnel will be triggered and upsell offers will be shown. Using a category to trigger funnel saves a lot of time from adding individual products as targets and you can set up related funnel offers which will show up for the right category.
Smart Offer Upgrade: With the Smart Offer Upgrade feature, you can offer an upgrade on the existing purchase to your customers after the checkout is done. The Smart Upgrade offer feature will replace the current product with the offer product as soon as they accept the Upsell offer. For example, if a customer has purchased a Macbook Air, you can offer him a Macbook Pro after checkout. If he accepts the offer, his Macbook Air will be replaced with Macbook Pro.
Streamlines with Upsells and Downsells: Let your customers get a well-framed series of Upsells and Downsells so that no customer could walk out empty-handed from your eCommerce store. Simply, you can add upsell and downsell offers in a single funnel so that if a customer rejects your upsell offer, you can show them a downsell offer to increase the order value.
Control Customer Behavior: Decide where your customers will go after they accept or reject the post-checkout offer to upgrade the purchasing experience of your customers. In a nutshell, you can control the actions of your customers by redirecting them to another upsell offer after they accept or reject the previous one.
Combined order of Parent & Upsell products: One Click Upsell for WooCommerce adds the accepted Upsell and Downsell offers to the customer's initial order. A Combined order makes packaging and shipping convenient. It also eliminates the hassle of tracking orders separately.
Create Unlimited Funnels with Unlimited number of Offers: You can add as many upsell or downsell offers you want to add in your upsell funnel with this one click upsell plugin.
Smart Skip If Already Purchased: With the smart skip offer, merchants can show intelligent upsell offers to their customers. This feature will allow you to skip the upsell offer for those customers who have already purchased the offer product anytime before in previous orders. This ensures that no customer gets to see an offer he has already bought.
Create product-specific Offer pages: You can customize every offer page in a different manner specifically according to the upsell product. Simply, you are free to design your upsell offer pages according to the offer product you'll be offering as upsell.
Funnel Sandbox mode: Our One Click Upsell for WooCommerce plugin comes with the ability to view and customize funnel offer pages in sandbox mode. In the Sandbox mode, you can tweak your funnel and every element of the offer page before making it Live. With this feature, you can make sure that you aren't making any kind of customizations in your funnel that you'll be changing after publishing the funnel on your WooCommerce store.
Responsive Offer pages: With this plugin, you can create responsive upsell offer pages for Desktop, Tablet, and Mobile devices in the Sandbox mode and customize the same offer pages differently according to these devices.
Accept Payments From Multiple Payment Gateways Securely: Nothing can be worse for a business than a customer who is unable to pay for their product or service due to the absence of a particular payment option. To solve this often neglected issue, we offer a variety of payment gateways that make shopping more convenient for your customers. From PayPal, Stripe and Authorize.net to COD, Bank Transfers and PayStack, you can now enable your customers to transact from anywhere in the world with several popular payment gateways.
Upsell Reporting: Upsell funnel reporting feature that lets merchants track the performance of every upsell funnel. With this feature, you can check how many times a specific funnel was triggered and its offers were viewed, accepted, or rejected. It also shows the conversion rate and total sales of every individual funnel. Moreover, you can also check the number of upsell orders placed, upsell items bought, average and net upsell sales, etc. for a set period.
Upsell Tracking: The upsell offer page occurs in between the checkout and the thank you page. This hinders the tracking of the parent product sales and doesn't provide you with accurate sales data. The upsell tracking feature provides you with accurate data of the parent product and the upsell product sales. You can track this data through Google Analytics and Facebook Pixel.
Global Funnel: You can add a global funnel that will always be triggered independent of any target products or categories. If you need to show a similar upsell offer for all your products or categories, or you want to increase the exposure or sales of a specific product, you can use the global funnel feature.
Just a single click to Accept the offer: Customers can accept the upsell offer product in a single click without entering the payment details again. If they accept the offer, the upsell product will be added to the existing purchase.
Exclusive Offer: With the exclusive offer feature, merchants can make an Upsell funnel exclusive to customers. This exclusive offer will only be shown once to the customers as per their order email. In simple words, a customer who has seen this exclusive upsell offer once will never see it again.
Pre-defined Offer Templates: The plugin comes with 3 templates for the post-purchase upsell offer pages that are completely customizable with Elementor.
Custom Offer Pages With Shortcodes: Use advanced shortcodes for making custom offer pages for your brand. All you've got to do is place the suitable shortcode on your custom offer page.
WooCommerce One Click Upsell Funnel Pro Pricing
1. Signle Site license costs $55 – BUY NOW
Unlimited Funnels
Integrates with PayPal, Stripe, Authorize.net, Braintree, Square, Cardcom, Paypal Express Checkout, Paystack, Vipps, Tpay, COD, BACS, Check Payments
WooCommerce Subscriptions Compatibility
24*7 Phone, Email & Skype support (1 Year)
Regular updates (1 Year)
Use it on single site for Lifetime
2. 5 Site license costs $175 – BUY NOW
Unlimited Funnels
Integrates with PayPal, Stripe, Authorize.net, Braintree, Square, Cardcom, Paypal Express Checkout, Paystack, Vipps, Tpay, COD, BACS, Check Payments
WooCommerce Subscriptions Compatibility
Get first in the queue in receiving our dedicated support
24*7 Phone, Email & Skype support (1 Year)
Regular updates (1 Year)
Use it on up to 5 sites for Lifetime
3. 25 Site license costs $409 – BUY NOW
Unlimited Funnels
Integrates with PayPal, Stripe, Authorize.net, Braintree, Square, Cardcom, Paypal Express Checkout, Paystack, Vipps, Tpay, COD, BACS, Check Payments
WooCommerce Subscriptions Compatibility
Get first in the queue in receiving our dedicated support
Get free Expert Advise
24*7 Phone, Email & Skype support (1 Year)
Regular updates (1 Year)
Use it on up to 25 sites for Lifetime