Netpeak Spider 3.5 SEO Tool: Updates Overview
As an SEO strategist, it would do us well to have great tools at our disposal. I have previously talked about Netpeak and I must say that their tool updates are worth mentioning especially with something as big as this. The importance of crawl budget and domain crawling for SEO is momentous, with the fast-paced digital world requiring us to be vigilant especially for onsite optimization.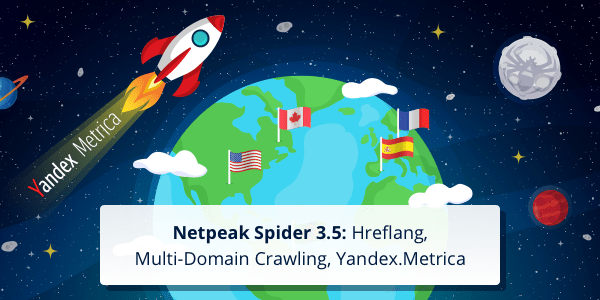 Hreflang is one thing that you should pay attention to even if you are operating a site that currently has no other versions because you have to think big. What if your business can branch out to another country? It's best to be prepared.
This is one of the reasons why the Netpeak Spider 3.5 update is something you need to check out. We'll cover three big changes and explain how to configure these features in the crawler and get the most out of them.
Hreflang Analysis
This feature will be useful for specialists that work with multilingual websites. If you deal with a lot of hreflangs, you probably have some kind of headache. Even John Mueller suggested that hreflangs is one of the most complex aspects of SEO.
So in the latest update, Netpeak Software team has implemented a comprehensive hreflang analysis. To turn it on, go to the 'Advanced' tab of the settings and tick on the 'Hreflang' checkbox. Once you tick it, Netpeak Spider will crawl all the links from the hreflang attributes and include them to the main table.
As an example of how it works, we'll analyze an apple.com website because they have a lot of hreflangs. Go to the Parameters tab in the sidebar and turn on hreflang parameters in the 'Head Tags' group. Spider collects this data from the web pages and adds them to the table as usual.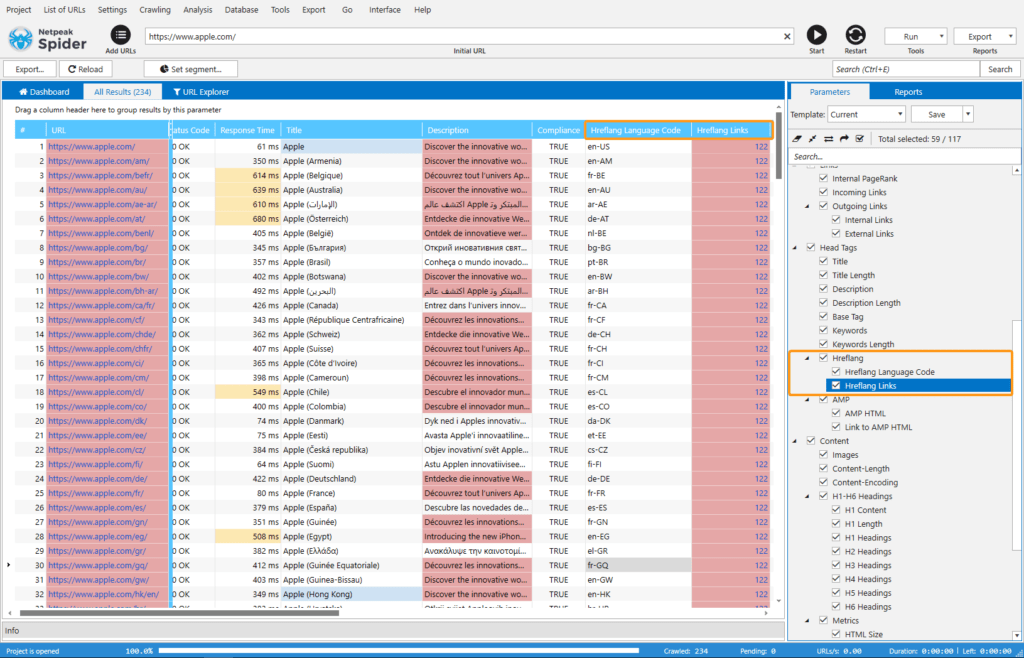 Based on this data, you can spot nine new issues. For example, hreflangs inconsistent with the language code in confirmation URLs, which means that the target URL's language code is not consistent with the language code of incoming hreflang links. The spider will show you this issue and eight more of them. And if you want to get all the data at once without filtering by a specific issue, you can export extra-large reports with all hreflang URLs and hreflang summary.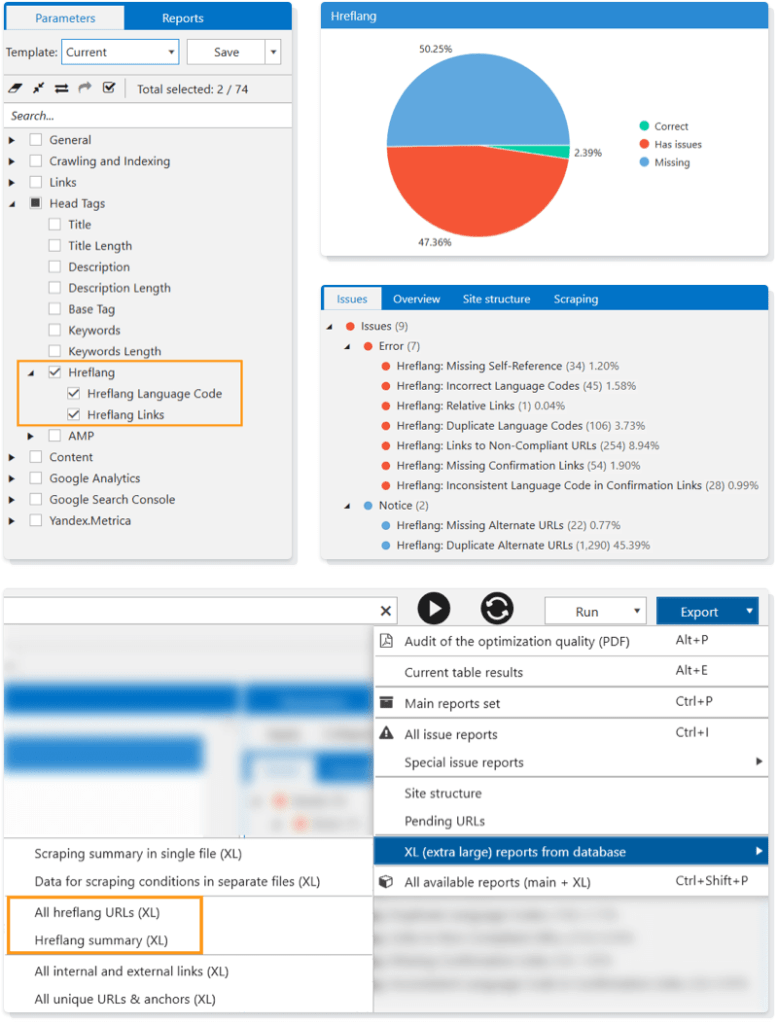 Multi-Domain Crawling
The next feature is multi-domain crawling. Previously if you wanted to crawl through several websites, you could crawl them one by one. Still, it took time to perform this task. Starting with Netpeak Spider 3.5, all users that have a PRO plan will be able to crawl a lot of domains within one project.
Add several domains to the table (from the clipboard, different files, or just enter manually) and then go to the settings → General tab → Enable multi-domain crawling. Netpeak Spider will crawl all the domains that you have added to the deepest parts of them.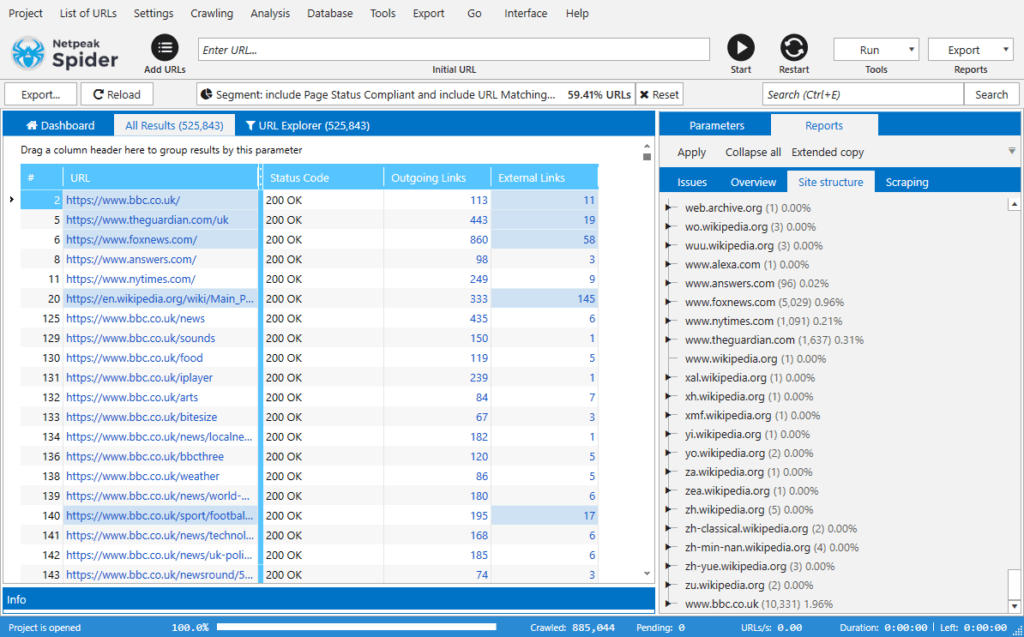 For example, there are 24 domains we crawled, and we got 800 thousand pages in total. It can be actually used for finding all the broken links in trusted domains to perform broken link building. Or maybe you want to look for some kind of dropped domains: in this case, you can find all the external links from these websites, and then export them to Netpeak Checker and find out when they expire.
Or if you're looking for contact details, from now, you can crawl all the websites' pages in Netpeak Spider, then transfer these URLs to Netpeak Checker, and use contact details finder there to get all the emails and phone numbers.
Multi-domain crawling is a feature for real pros, that's why Netpeak Software team has added it to the PRO plan of the Netpeak Spider.
Integration with Yandex.Metrica
The third feature is integration with Yandex.Metrica. It's a very popular analytics system for websites in Eastern European countries. By the way, Netpeak Spider is the only desktop SEO tool that is integrated with it. This feature works pretty much the same as Google Analytics integration.
To use it, you should go to the Yandex. Metrica tab, add your Yandex account, and start getting data for the necessary segment, date range, or device. Oh, and there is no sampling, so you can get full information about the visitors, conversions and so on for any period of time.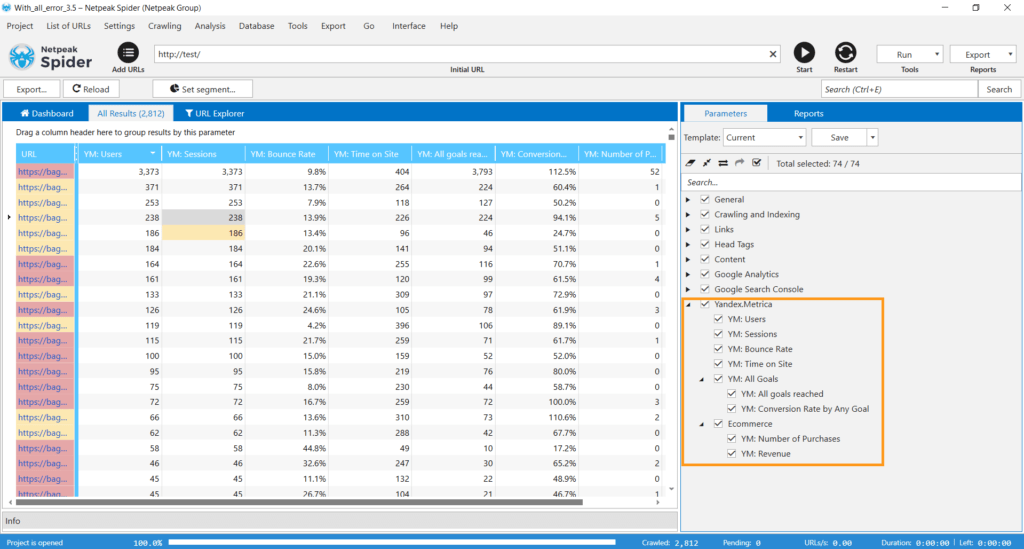 Based on this data, you can spot three issues:
Max bounce rate
Compliant pages without traffic
Non-compliant pages with traffic
There are also some diagrams on the dashboard of the app, and reports on the Overview tab, where you can find all the pages that either got or didn't get traffic. You can also get this report in PDF format for documentation purposes.
Key Takeaway
The Netpeak Spider tool has got three new big features: comprehensive hreflangs analysis, multi-domain crawling, and integration with Yandex.Metrica.
We would also like to invite you to try Netpeak Spider yourself as well (use free 14-day trial), and here's a handy promo code for 25% off your first purchase: 47147bff