8+ Best Dropshipping Stores For Sale In 2023 (Best Picks)
Dropshipping is one of the easiest business models that can be built with less effort and budget. Having a large customer base and recurring customers can make a dropshipping business very profitable. However, growing a dropshipping business with a large audience takes a lot of work. In the case of a good budget, there is an alternative.
Purchasing an existing dropshipping store is the quickest and easiest way to start a successful business. Suppose you are looking to buy a well-designed and successful dropshipping store. This article will help you know the popular websites where you can buy Dropshipping stores. I have listed eight sites that offer Dropshipping Store For Sale.
A quick overview of websites that sell dropshipping stores
| | | |
| --- | --- | --- |
| Sr. No. | Websites  | Why choose? |
| 1. | Brandafy | Offer premium Shopify dropshipping stores at affordable prices. |
| 2. | StartStorez | They take care of the entire dropshipping store, from designing with the theme to inventory management for $99. |
| 3. | Flippa | lists various companies like SaaS, E-commerce, and blog website, having higher revenue |
| 4. | MicroAcquire | The best marketplace to purchase rising businesses is by evaluating the business's overview, revenues, earnings, and history. |
| 5. | Dropbuild | Buy stores with all the essential functionalities like designing, expert branding, and essential apps, as well as integrated payment processors and SEO marketing tools. |
| 6. | Empire Flippers | They offer verified online stores with advanced migration support, and manage legal documentation and escrows. |
| 7. | AliDropship | All-in-one website to fulfill dropshipping requirements from Dropshipping plugins, Premium store, Custom store, and other related services. |
| 8. | Wholesale2b | Custom stores with affordable pricing with over a million things to pick from.  They take care of entire dropshipping from importing products to shipment. |
8+ Best Sites To Buy The Dropshipping Stores In (2023)
Here are some of the best Dropshipping Store For Sale detailed guides here.
1. Brandafy
It is one of the top choices to buy prebuilt Shopify dropshipping stores on less budget. If you want to order from an existing dropshipping store, you can do so for $37. It is also possible to order a new drop shipping store for $17. You can get ready-to-sell dropshipping stores within 24-72hrs of time.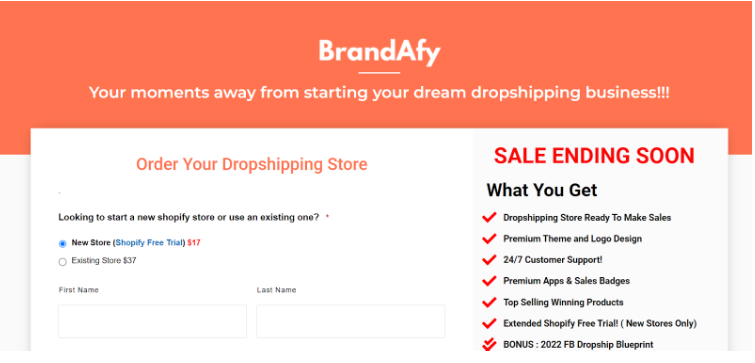 === Click Here To Get Brandafy Today ===
The store will be designed with a premium theme and necessary apps with top-selling products. In case you are unfamiliar with how to run a dropshipping business, you will get a quick start guide with basic steps to manage the store from the Brandafy team.
Advantages of using Brandafy:
Deliveries from the supplier are expected to be fast, with a delivery time of 4-10 days to the US or the EU.
You get a complete dropshipping store with expenses like design, domain name, theme, and product list from $67.
You can also get additional features such as social media integration and currency switching as an online store owner.
You will get 24/7 support for your issues.
2. StartStorez
This is one of the popular choices for purchasing dropshipping stores.
The step to order ore is a simple process, First, you need to submit a request by filling the form with the expectations of the store. The StartStorez team will design the store with all the expectations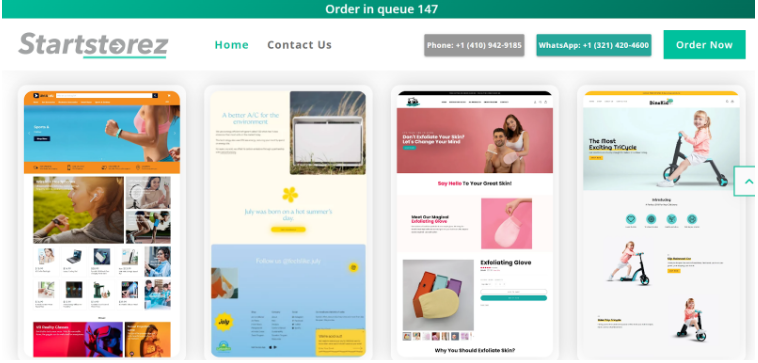 After ordering the store, You will receive the store in 4-5 working days. This includes designing the store with logo, Plugins/Extensions, and Setup Payment Gateway, including all the debit and credit cards. They design online stores for Shopify and Woocommerce Basic Store Setup with integrations.
You can also receive personal recommendations from the team on how to make your business successful with growing customers.
The advantages of using StartStorez are:
You can order the store for $99 with all the required features like designing with a theme, third-party software, inventory management etc.
It is possible to sell various trending products like watches, apparel, pet supplies, etc., by importing products with a single click.
StartStorez designs high-converting dropshipping stores with premium themes which leads to high sales.
3. Flippa
It is one of the #1 sites to buy and sell all types of businesses and websites.
They list verified drop shipping and other eCommerce stores with networth, asking price, and other required details.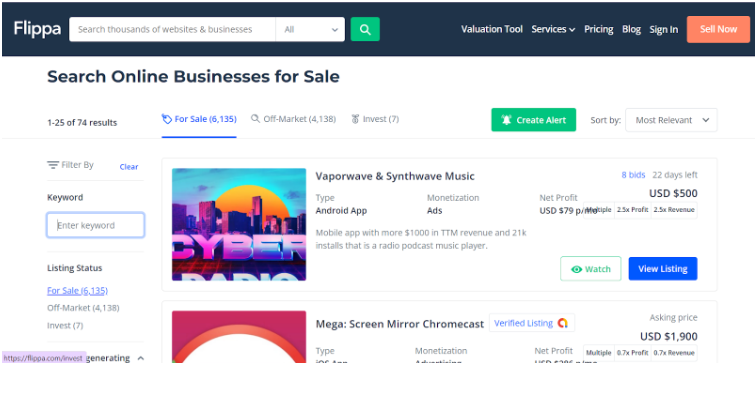 Flippa currently(December 2022)lists more than 600 dropshipping stores with various categories. Here you can buy a dropshipping business with a greater customer base, revenue, and popularity. Flippa lists more than 6k different businesses in addition to dropshipping businesses. E-commerce, blogs, affiliate marketing websites, SaaS, and other businesses are among the others. You can choose the business as per your expectation.
Advantages of using Flippa:
It is one of the top marketplaces with more than 6000 different businesses with all the details being open so that you can trust them easily.
You can check the product category they sell, profit, revenue, etc.
SemRush and Google Ads are integrated with the Flippa dashboard to show the sources of traffic and how the revenue is generated.
4. MicroAcquire
This is the world's number one startup acquisition marketplace where you can buy successful dropshipping stores. From thousands of businesses, you can look for the dropshipping store that best meets your needs. You can choose the firms you're interested in by using the metrics to filter and sort and obtain it within 30 days. MicroAcquire is one of the advanced platforms to acquire growing-stage startups where you can compare 20+ financial metrics, including MRR, CAC, and ARR, to acquire an ideal business. The filtering option in the best option gets a list of your preferred choice.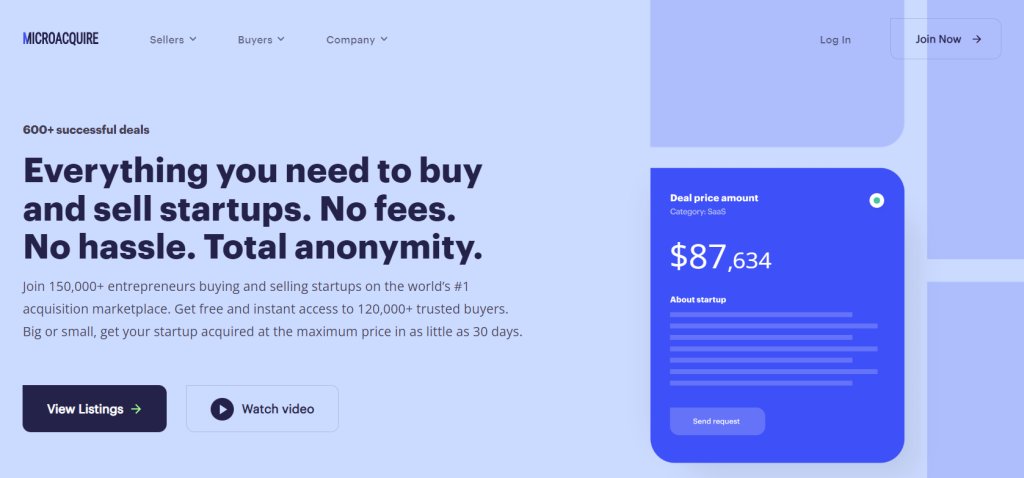 MicroAcquire has three pricing plans to join its community of buyers, including Basic, Premium, and Platinum, and the charges are given below:
This marketplace is favored by buyers and sellers due to its convenience and verified transactions.
MicroAcquire report provides a pretty good overview of the business, its revenues and profits, and its history.
MicroAcquire collaborates with Clearco, from where you can borrow money to finance your company and return it.
5. Dropbuild
Dropbuild website builds and sells Shopify dropshipping stores. They help you take care of the entire process, like designing, listing popular products, marketing strategy, best suppliers, etc.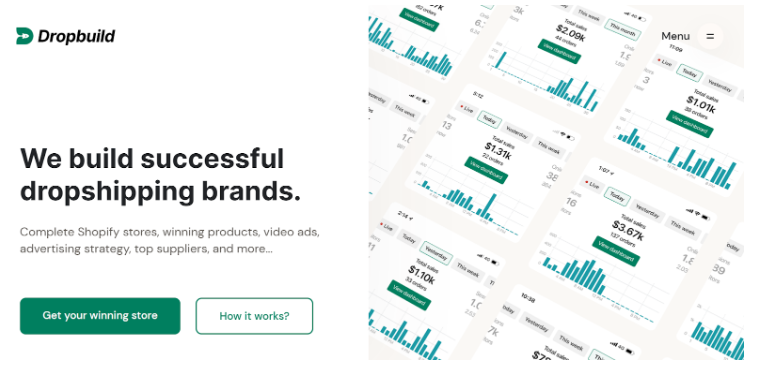 This process includes various steps given below:
You will get the list of profitable products you need to choose from.
After choosing the niche, you must confirm the products you want to sell in your store. The Dropbuild team will design the store with products, descriptions, and video ads.
After the entire design process, you should review the store and send the review.
Your dropshipping store will be prepared to sell the goods. You will receive round-the-clock assistance if you experience any operational issues.
The advantages of using Dropbuild are
The Dropbuid team will assist you in finding winning products and provide a link to a supplier with the quickest shipping time. Dropshipping businesses must gain customer trust with fast delivery.
All these stores are designed with premium themes, expert branding, essential apps, integrated payment processors, and SEO marketing tools.
6. Empire Flippers
It is one of the top marketplaces for acquiring new businesses. Empire Flippers have generated over $400M in digital assets, making it one of the Inc 5000 Fastest-Growing Companies in the US. They will update the new businesses every Monday.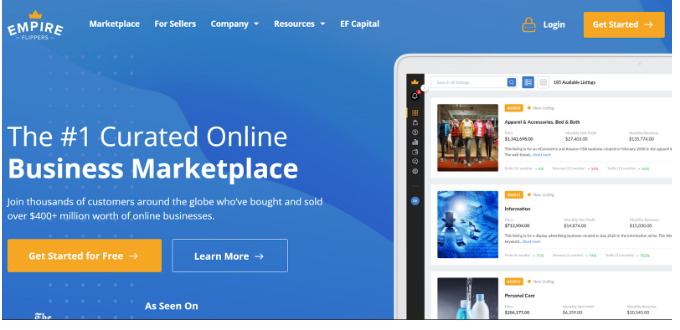 They list businesses in various niches, including Automotive, Electronics, Lifestyle, beauty, etc. Most of their listings are large-scale, well-established, and profitable online businesses. When it comes to dropshipping business, they have 6-7-figure turnkey Shopify dropshipping sites.
The advantages of using Dropbuild are:
An expert team carefully reviews and checks the quality of every online business listed on the website.
All the businesses are listed with all essential details like product details, suppliers, sources of traffic types, opportunities, the skills required to operate, etc.
The credibility can also be verified by checking the monthly revenue, net profit, multiplier, email lists, social media accounts, domain, and employment contracts.
As part of advanced support migration, you can prepare a profit and loss statement (P&L), mediate conference calls, provide legal documents, and handle escrows.
7. AliDropship
AliDropship is one of the all-in-one providers for all your dropshipping needs. You can purchase an established dropshipping store. The stores listed here are risk-free operations with stable incomes. You do not require any previous experience to run these online stores. You will get lifelong technical and marketing support if you get stuck in any issues. You will own 100% of the business after purchasing the store.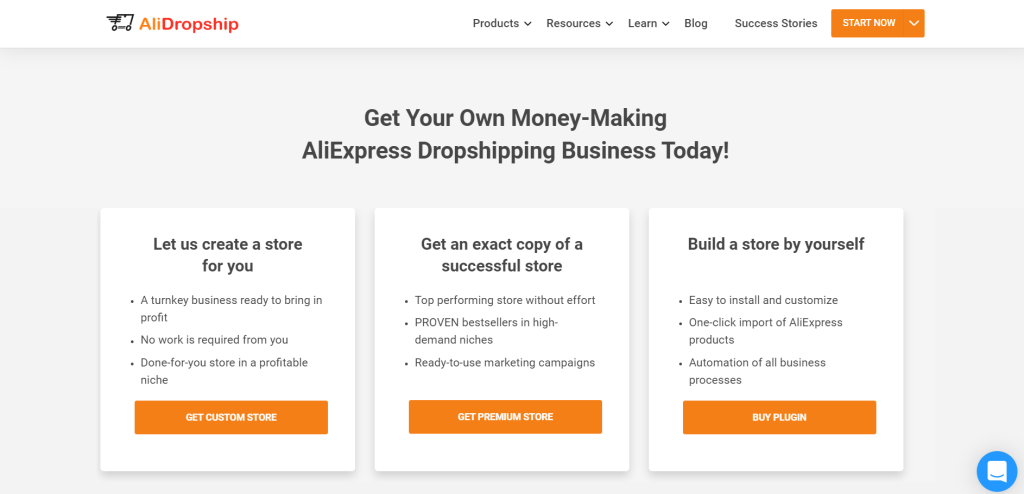 AliDropship also sells dropshipping services like plugins, Custom stores, Premium dropshipping stores, services, themes, etc. In all these services, the personalization is done as per your requirements.
You can order from custom-made dropshipping stores starting from $299. With this package, you will get a mobile-friendly design, a domain name, integrated payment gateways, and full inventory integration with AliDropship.
The advantages of using AliDropship are:
You can instantly import more products from AliExpress, with the AliDropship plugin integrated into the stores.
You can fulfill all your dropshipping needs on a single website.
For custom stores, you will get a personal manager who guides you with every step of your custom store creation and answer all your questions related to technical issues.
You can access unlimited products from Aliexpress with trusted suppliers from the AliDropship plugin.
8. Wholesale2b
This platform is famous for its wide range of supplier base with more than 1 million dropship products. Wholesale2b handles the end-to-end dropshipping process from importing products to shipment. You can order from a custom dropshipping store, which is charged $49/per month.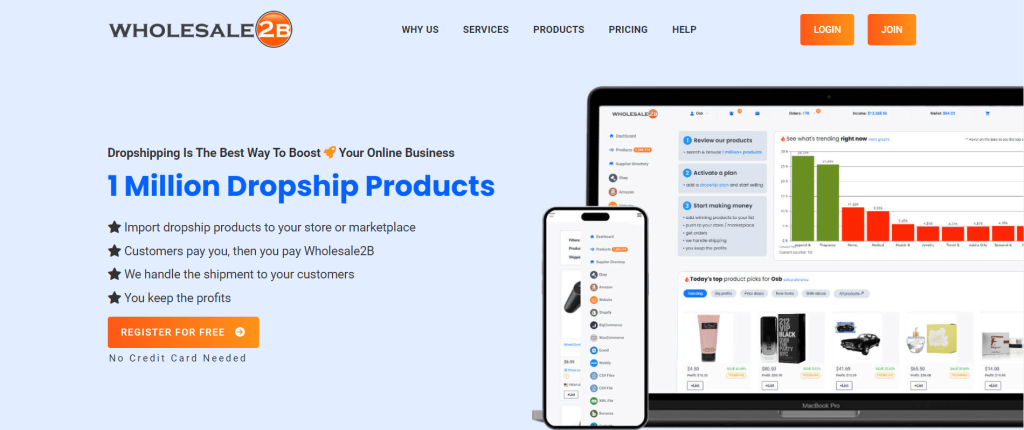 The Wholesale2b team designed the dropshipping store and delivered within one day. You need to pick the niche and supplier from whom you want to ship products, the domain name, and the products you want to sell. Medical stores, home decor stores, Toys store, watch stores, and many more.
The advantages of using AliDropship are:
With Wholesale2b, you get a domain name, hosting, business emails, unlimited bandwidth, free SSL certificates, inventory syncing, one-click order processing, and complete inventory synchronization.
You can use many growth marketing tools like Google Analytics, Notification Bars, Push Notifications, etc., with a one-time payment.
Several features are available in a shopping cart, including Coupon Creation Advanced, Quick View and Added to Cart popups, Product Wishlists, and related products.
Conclusion: Best Dropshipping Stores For Sale In (2023)
While there are numerous websites that list and market dropshipping businesses, the ones above are the most well-known and reliable. You should consider a number of factors regarding the dropshipping store before making a purchase, including the niche, items, supplier, product quality, delivery time, order returns, etc. Before making a purchase, it is crucial to understand the fundamentals of how to operate and manage dropshipping stores. I hope my article on websites that offer Dropshipping Store For Sale has helped you know the best sites to buy dropshipping stores.