Sydney Theme Review from IsItWP
Sydney is an immensely popular WordPress theme that comes as a free theme as well as a paid version with premium support and features. In this Sydney theme review, we will take a look at those features to find out what makes this theme so popular among WordPress users.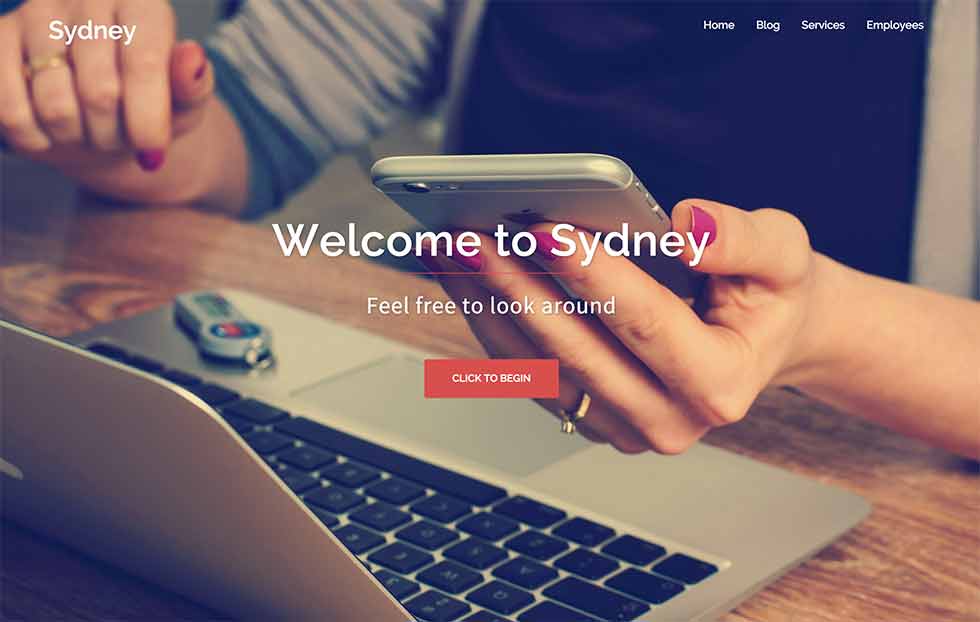 About Sydney Theme
Sydney theme is created by aThemes, a WordPress theme company. Started by Charlie Livingston in 2013 as a one-man team, aThemes now has 6+ employees and a growing portfolio of WordPress themes. The company explains their philosophy in these words.
The philosophy behind our themes is that they are well designed, easy to use, and backed up by speedy support and frequent updates (we are always improving). – aThemes Team
Sydney is their most popular theme so far with 203,000 downloads from WordPress.org theme directory alone. The company claims that its themes have been downloaded over 600,000 times.
Sydney Theme comes in two variations a free version available from WordPress.org theme directory and a paid version. The paid version comes with additional features + premium support. We will be reviewing the pro version of the plugin as it includes all the features of the free version and then some more.
Features of Sydney Theme
Sydney theme offers a great set of features without overwhelming users. It provides the flexibility of a premium WordPress business theme with the ease of a well-coded and standard compliant WordPress theme. Here are some of the features that make Sydney Theme a great choice for any WordPress site.
Stunningly Beautiful Full Screen Background
One of the main features of Sydney theme that makes it a standout among other free business themes is the full screen header image. Users can add a high resolution full screen image as the header with a call to action. Users can also add a full screen slideshow in the header with a call to action.
Parallax Background
Parallax effect makes scrolling fun and creates a more engaging experience for users. Sydney theme allows you to add a parallax background effect to any row in your theme layout. You can add a parallax effect to multiple rows on the same page. Combining parallax with the full screen header and other theme features allows you to create beautiful modern websites with in minutes.
Ease Access to 600+ Google Fonts
Sydney theme provides an easier way to load any of the 600+ Google fonts in your theme. Simply go to customizer and click on fonts. Select the section where you want to use Google fonts and simply add the font name. There is no need to install an additional plugin to use Google fonts or load them by editing your theme files.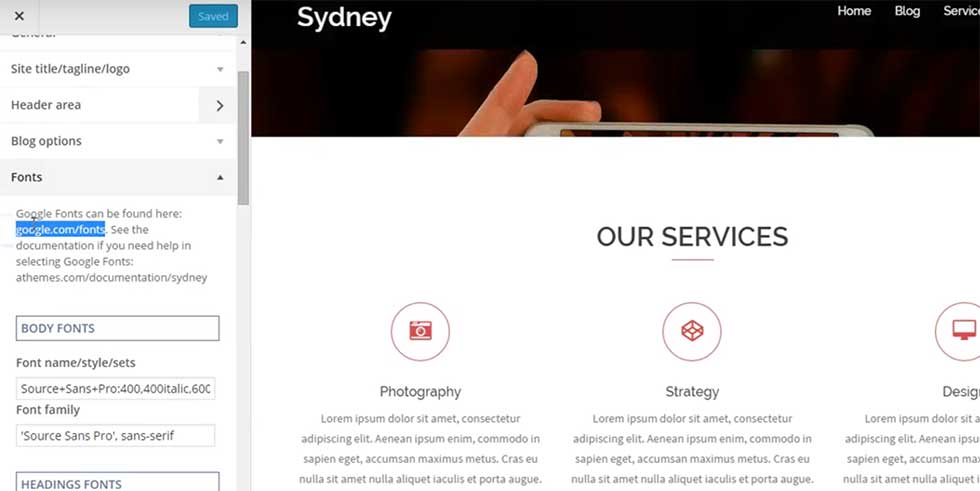 Frontpage Blocks
Sydney is designed to be the perfect theme for a modern business website. It allows you to easily set up your homepage using block based layout. Simply add the built-in blocks to your theme's homepage to quickly create a professional looking frontpage for your website.
Sydney is also fully compatible with most WordPress page builder plugins including Page Builder by Site Origin, Visual Composer, and Beaver Builder. This gives you the freedom to create an unlimited number of landing pages for your website.
Crelly Slider Support (Pro)
The pro version of Sydney Theme comes with built-in support for free Crelly Slider plugin. The header section of Sydney theme can display full screen slideshows and it works out of the box with Crelly Slider plugin. This makes it extremely easy for anyone to add a beautiful slider with very little effort and no coding knowledge.
Custom Widgets
Sydney comes with 12 custom widgets included in the free version. The pro version of theme includes 4 additional custom widgets that you can add any where on your website. Here is a list of custom widgets included in the theme:
Contact info widget
Video widget
Call to action widget
Clients widget
Employees widget
Facts widget
Latest news widget
Services types widgets
List widget
Social profile widget
Testimonials widget
Skills widget
Timeline widget (Pro)
Latest news in carousel widget (Pro)
Page Templates
The free version of Sydney theme comes with two read to use page templates. Front page template can be used to create a Sydney theme front page. A full width page template that you can use to create any kind of page. This full-width template can also be used to create landing pages with any of the free or paid WordPress page builder plugins.
The pro version comes with five extra page templates with different layout choices. These page templates include contact, featured header default, featured header wide, no header – default, no header wide.
Documentation and Support
Usually, free WordPress themes don't come with detailed documentation. Most free themes have very limited support options with no guaranteed response from developers. Sydney theme provides excellent documentation even for the free version of theme. The documentation includes video tutorials to set up your theme and use all its features.
Users can also post questions in the support forums where theme developers can answer their questions. The pro version of the theme gives you access to priority support and a year of guaranteed updates for the paid version.
Considering that the theme has a massive free user base, we think it is excellent that they offer detailed documentation and support for their free users as well as their paying customers.
Our Score
Sydney is an ideal WordPress theme for a business website. It has a gorgeous design and it is very easy to use. Customization options are enough to give users control but not too many to overwhelm them. We give it 3.6 out of 5 stars.
Source: https://www.isitwp.com/wordpress-themes/sydney-theme-review/