BasePress Knowledge Base – WordPress Plugin
BasePress allows you to build as many knowledge bases as you need to document your products or services.
Reduces your customer support cost and helps your customers find the answer they need 24/7.
It is designed to be easy to use thanks to its clean administration tools that integrates seamlessly in WordPress admin area.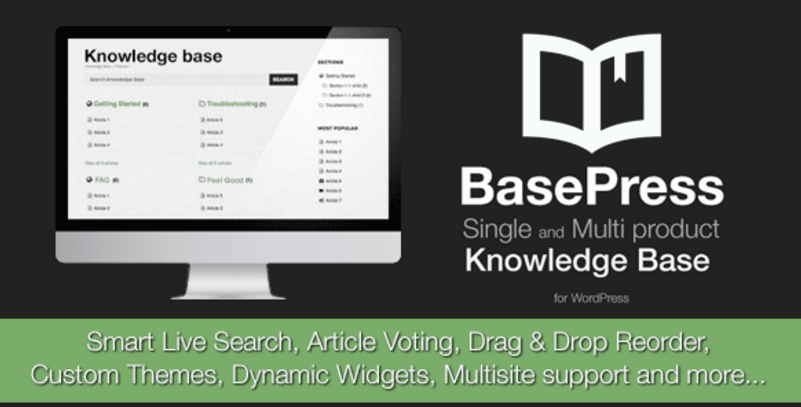 =>> Get BasePress Premium Plugin
What makes BasePress the right tool for your business?
Ready to use in less then 5 minutes.
Create as many knowledge bases as you need.
Keep your content organized in a logical way dividing it by product, service, department etc.
Serve targeted answer to your customers saving them time too.
Adapts to all devices. Your customers can consult it form any device including tablets and phones.
Keeps the look of your website professional.
BasePress creates an entry page for your customers where they can choose the knowledge base they want to consult.
They will be taken to the right knowledge base for their needs and all the articles, searches and suggestions will be fully relevant to what they are looking for.
This is a Lite version of the Premium plugin that they wanted to share with the WordPress community.
It has all the features you need to create your fully functional knowledge base and nothing less.
=>> Get BasePress Premium Plugin
MAIN FEATURES
Build a single or multiple knowledge base
A dedicated page for users to choose the knowledge base
Unlimited sections hierarchy
List and boxed sections styles
Image and description for each knowledge base
Image, icon and description for each section
Icon selector for each articles
Drag and drop reorder for knowledge bases and sections
Search bar with live results
Shortcode to add the search bar anywhere in your website
Related articles widget
Sections widget
Knowledge bases widget
Easy to use admin screens
Translatable via .pot files
Easy customization
3 default themes included
If you need some extra features for you and your customers consider upgrading to the Premium version and get access to these extra benefits:
PREMIUM FEATURES
Improved search bar results based on user votes and visits as well
Articles voting
Popular articles widget based on votes and/or visits
Dashboard widget
Automatic Table of Contents (in article and/or widget)
Drag and drop articles reorder
Next and Previous articles navigation
Advanced Content Restriction by user role
Knowledge base Insights
Multisite support
WPML support
Shortcode editor to add dynamic lists of articles outside of the knowledge base