Folders WordPress Plugin from Premio.io
Folders is a WordPress plugin that will help you quickly organize all of your Pages, Posts and Media in folders. Download Folders today for free to give it a try. You can always upgrade to the premium version to unlock unlimited folders for enhanced organization!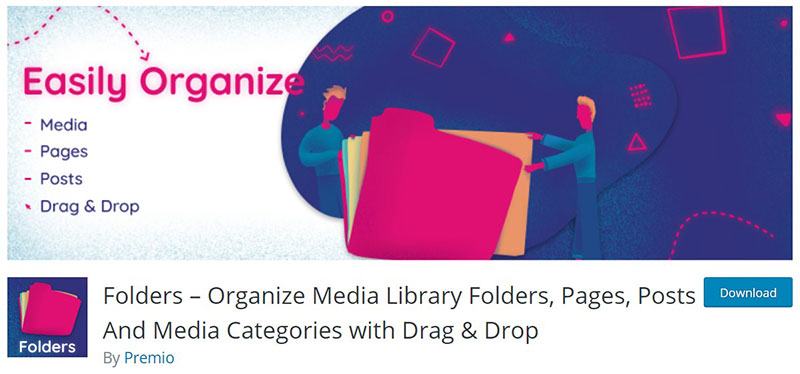 With Folders, you can save a lot of time managing your website's content by:
Organize Pages in folders
Organize Posts in folders
Organize WordPress Media Library files in folders
Change the order and the hierarchy of your WordPress folders for each type of content
Create sub-folders (up to 2 additional tiers)
Drag and Drop interface
Note: adding a page/post/image into a folder will not change its URL.
How can the folders WordPress plugin help you?
Organize your media folder – use the plugin to create WordPress media library folders and keep your media files organized in folders and sub-folders. You can assign media library items to multiple WordPress folders.
Web developers – organize your clients' pages, posts, and media library files in folders while you develop the website and after the development is done. Among the many uses of WordPress folders, you can use folders to let your client know which pages are missing content.
Bloggers: managing your posts was never easier! Use folders to organize your posts based on topics, time, and more. You can also use folders to organize your wp media folder based on categories, dates, colors, and more.
What do you get in the pro plan?
Unlimited folders! While in the Free plan you can have up to 10 folders in total, the paid version will unlock unlimited folders for you.
Folders WordPress Plugin Pricing
Basic Plan at $39/year – BUY NOW
For small website owners
Renewals for 25% off
1 website *
Unlimited subfolders (multilevel support) *
Dynamic Folders *
Create folders for each post type. I.e. WooCommerce, Elementor *
Metadata details on Media Library hover *
Sort folders based on the date *
Replace media of all types and compare them while replacing *
Advanced Media Replacements *
Default folder while uploading media *
Sticky folders & folder bookmarking *
Duplicate folders *
Lock/Unlock folders *
Customize folder styles with fonts, custom colors & more *
Download folders as ZIP *
Updates & support for 1 year
Plus Plan at $89/year – BUY NOW
For businesses with multiple websites
Renewals for 25% off
5 websites *
Unlimited subfolders (multilevel support) *
Dynamic Folders *
Create folders for each post type. I.e. WooCommerce, Elementor *
Metadata details on Media Library hover *
Sort folders based on the date *
Replace media of all types and compare them while replacing *
Advanced Media Replacements *
Default folder while uploading media *
Sticky folders & folder bookmarking *
Duplicate folders *
Lock/Unlock folders *
Customize folder styles with fonts, custom colors & more *
Download folders as ZIP *
Updates & support for 1 year
Agency Plan at $149/year – BUY NOW
For agencies who manage clients
Renewals for 25% off
50 websites
Unlimited subfolders (multilevel support) *
Dynamic Folders *
Create folders for each post type. I.e. WooCommerce, Elementor *
Metadata details on Media Library hover *
Sort folders based on the date *
Replace media of all types and compare them while replacing *
Advanced Media Replacements *
Default folder while uploading media *
Sticky folders & folder bookmarking *
Duplicate folders *
Lock/Unlock folders *
Customize folder styles with fonts, custom colors & more *
Download folders as ZIP *
Updates & support for 1 year