Best WooCommerce Variation Swatches Plugin – GetWooPlugins
WooCommerce Variation Swatches is the most popular attribute variation swatches plugin in the WordPress plugin directory. The plugin is an incredible creation by the GetWooPlugins team to create a new experience for WooCommerce product variations.
Key Features of WooCommerce Variation Swatches
WooCommerce Variation Swatches is a simple plugin but does a wonderful job. It turns product attribute select dropdown into beautiful swatches. It means you can turn product variation selection dropdown into color, button, radio, and image swatches.
Consequently, the plugin enhances the plugin experience extensively. Users don't need to reveal the dropdown select field and see what variations are available for the variable product. Without pressing extra clicks and spending extra time, they can quickly select their desired variation.
Get WooCommerce Variation Swatch plugin NOW
Auto Convert Dropdown Into Image Swatches If Variation Has a Featured Image Set
It's elusive to configure each product variation one by one to show image swatches. Our new feature of WooCommerce Variation Swatches and photo plugin can enable image swatches based on variation featured images.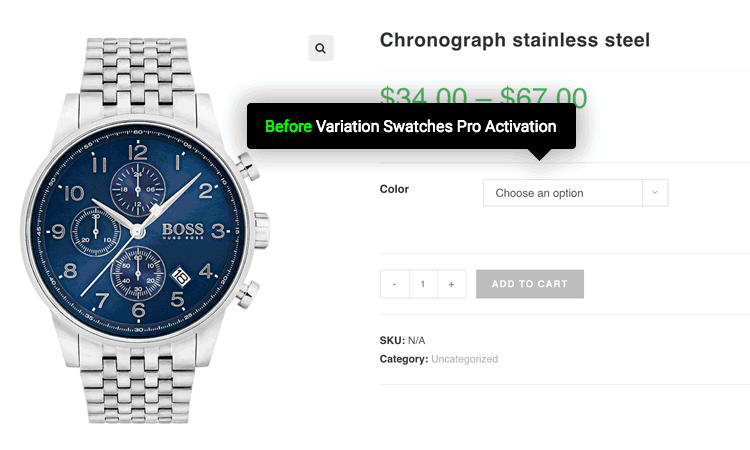 Display Swatch in Catalog / Archive Page
To boost store conversion and engagement, the Attribute variation swatches plugin enables swatch on the catalog page. It allows customers to check product variations from the archive page and add them to the cart.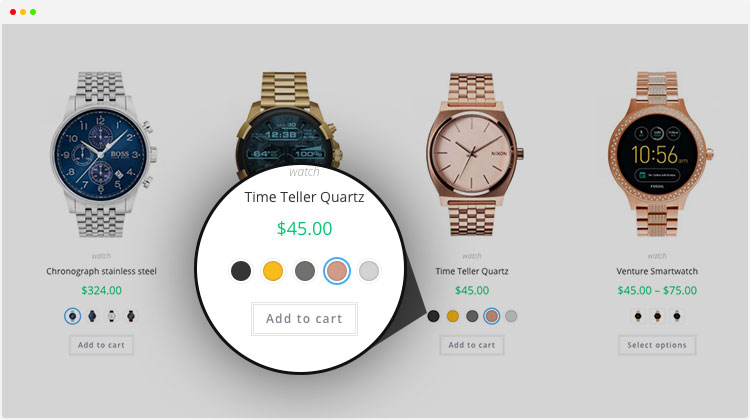 Variation Image Tooltip in Catalog / Archive Page
To convert users into paying custom, It's necessary to convince them to give all the important details about a product.  We have packed image tooltip for archive pages swatches in this WooCommerce variation swatches and photos plugin.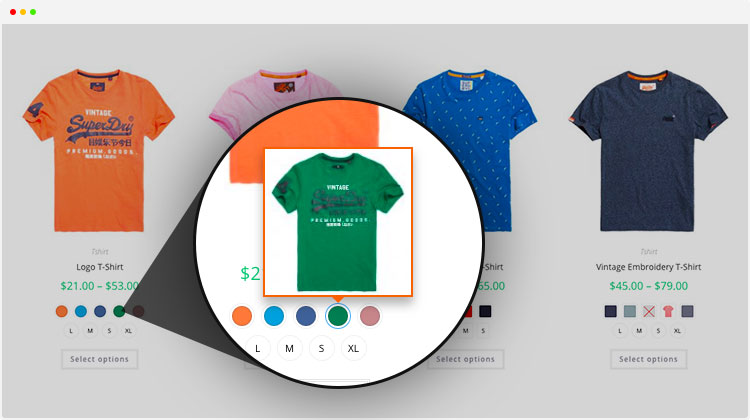 WooCommerce Filter Widgets
WooCommerce Variation Swatches Converts Filter Products by Attribute Widget into color swatches. So, you can use the widget to enable swatches for the filter dropdown.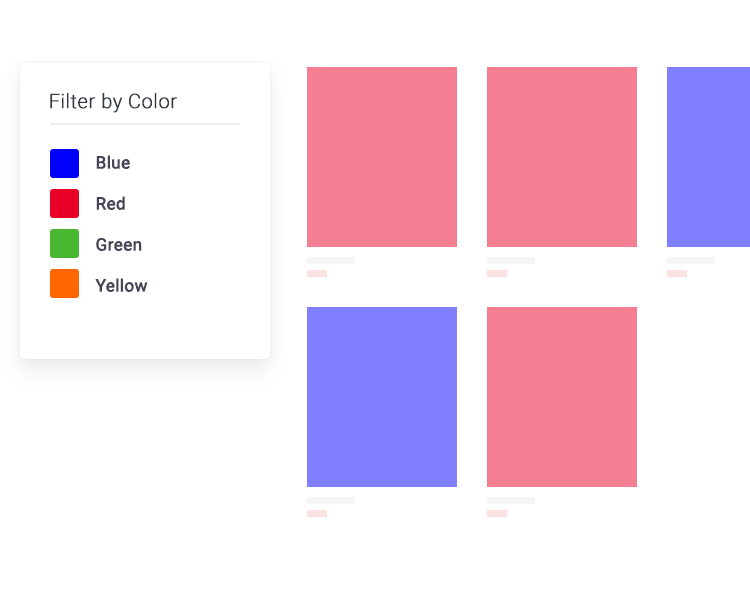 Text Tooltip in Catalog / Archive Page
Tooltip acts like a variation description. It describes more about the swatches. Instead of an image tooltip, you can enable a text tooltip to maximize your site engagement.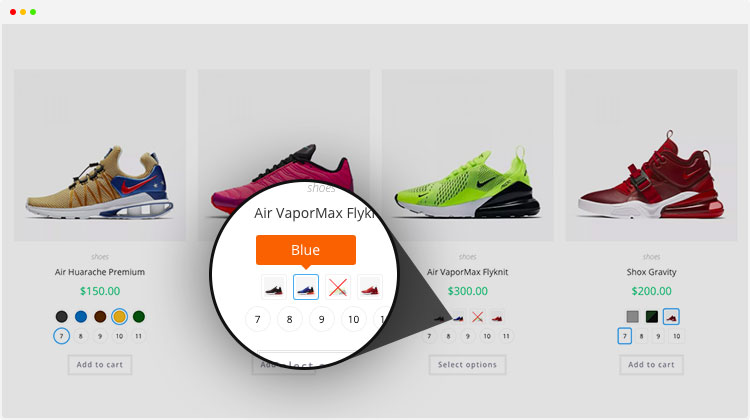 Dual Color Variation Swatches
Dual Color Variation Swatches allows you to insert dual color for a single variation. If you have variable products with two colors, you can define them from a single variation. All thanks go to WooCommerce Variation Swatches and Photo plugin.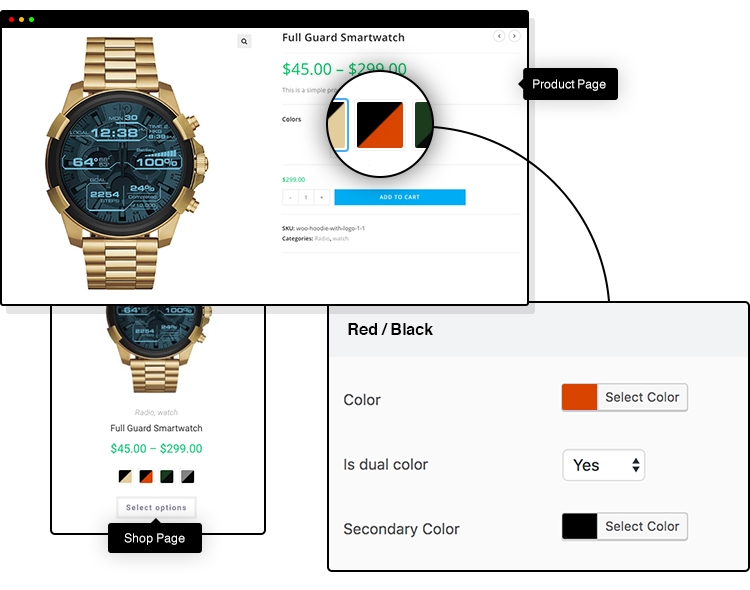 Supported With Quick View
Besides showing swatches on the product details page and archive pages, it can enable swatches on Quickview lightboxes to maximize storewide sales.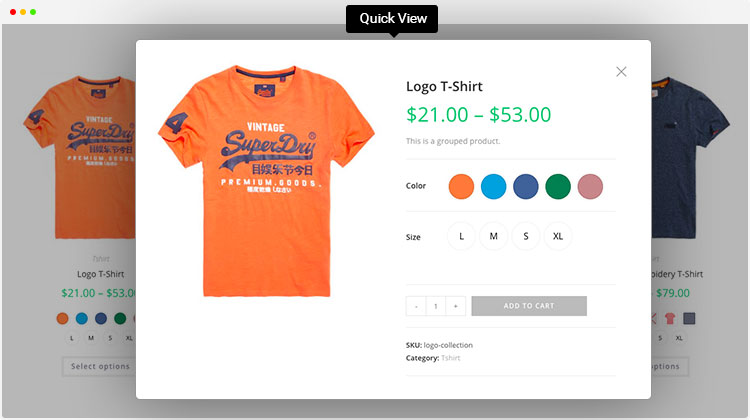 What to Display  Single Selected Attribute on Shop page? This will help!
If your product has 5 attributes, generally, every Woocommerce variation swatches pro plugin shows all the 5 swatches attributes on the archive pages. The first time, we brought an exclusive option besides the general feature. It allows you to show only a selected attribute on the shop page. From now, either you can display all selected attributes on the shop page or entire attributes like in a single product page.
Set MORE Link To Align Attribute Variation Swatches
Products may have a different number of swatches, which creates misalignment issues in the product archive pages. To keep your archive page design sleek and beautiful, WooSwatches has added a MORE link. You can specify how many variation swatches you want to show for each product in the product page category pages with the button.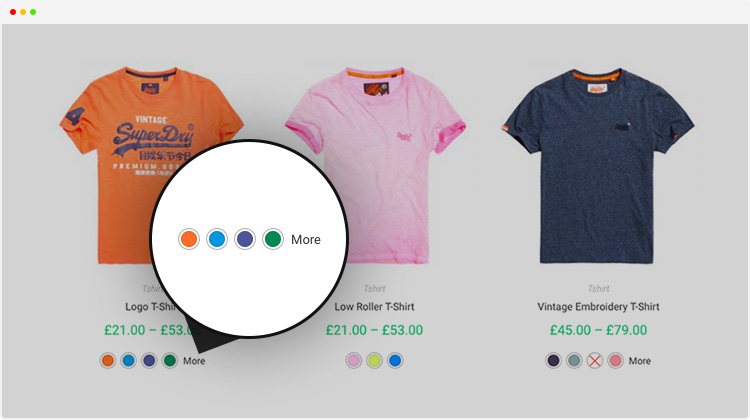 Change Product Gallery Image Selecting Only Color Variation Like Amazon and Aliexpress (Or Selected Variation)
Generally, WooCommerce variable product changes variation image when all available attribute variations are selected. The first time, in the WooCommerce Variation Swatches plugin history, we brought this to change the gallery image, selecting a single attribute variation. You don't need to match the entire attribute variation.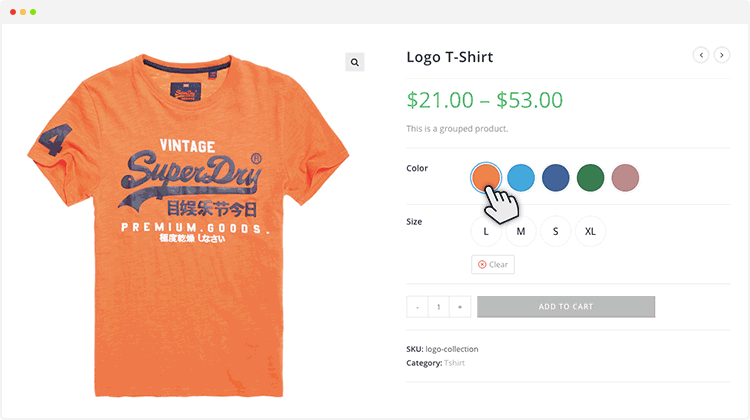 Generate Variation Link / Direct Variation Link
WooCommerce doesn't come with this feature. We brought this feature first time in WooCommerce from this popular WooCommerce variation swatches and photos plugin. With this feature, you can forward your specific attribute link to your customer for a quick purchase or share it the social media.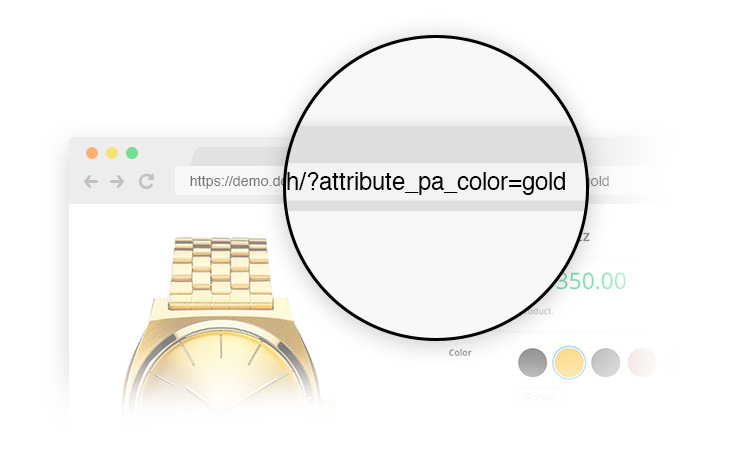 Product Based Swatch Customization
WooCommerce Variation Swatch plugin offers global swatches. If you need personalized variation per-product basis, you quickly achieve them from the site admin.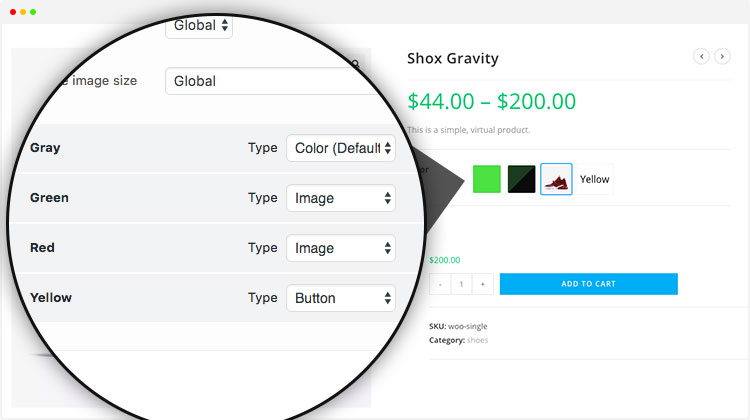 Color Variation Swatch For Product Page
The option turns product select options drop down into color swatches. It's the best fit option for the variable products that come with multiple variations.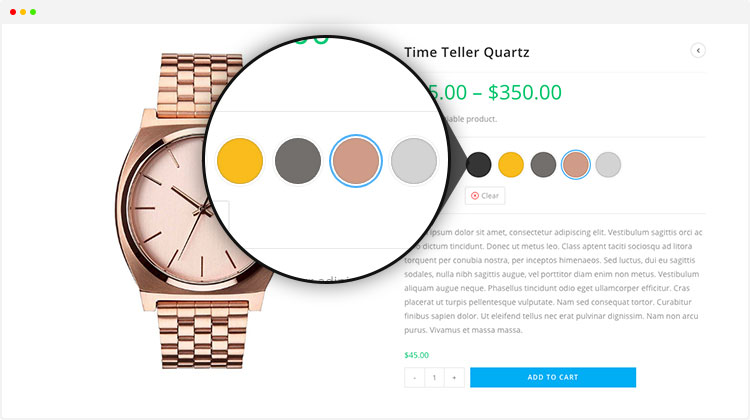 Image Variation Swatch For Product Page
Image variation does more than color swatches. When it comes to displaying images as product variation, this option comes in handy and highly engaging conversion.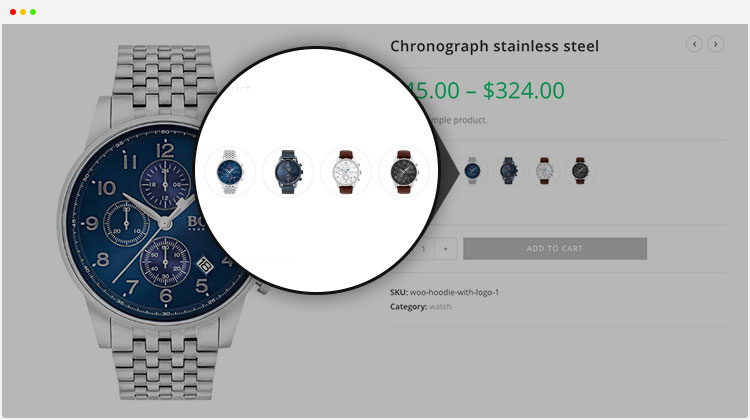 Button / Label Variation Swatch For Product Page
When it comes to showing available product size, quantity, and other variation related details, button/label swatch boost conversion extensively. It allows selecting customers to select their desired product variation quickly.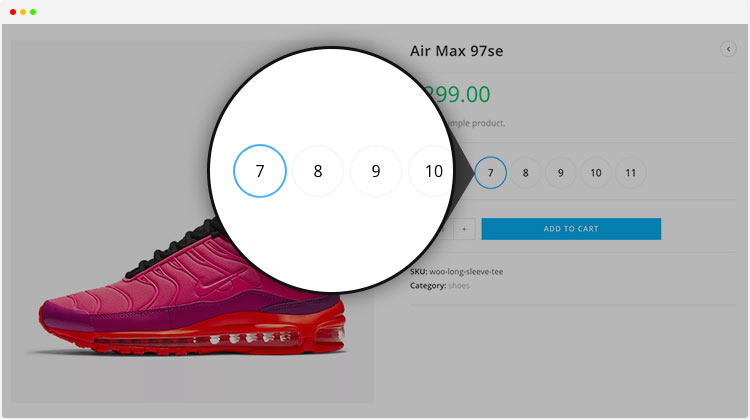 Radio Variation Swatch For Product Page
Radio select box is another variation type to show product variations beautifully. It acts like the variations list for WooCommerce variable products.
Highlight Your Special Attribute
Your product may have plenty of attributes. If you want to keep your desired single attribute standout and highlighted. you can make the attribute enlarged using this popular WooCommerce Variation Swatches plugin
Create Category and Group Wise Variation Swatches
With many variations, swatches may confuse users to select their desired option. With the help of this plugin, you can categorize and group variation swatches beautifully.
Product Page Variation Image Tooltip
Sometimes tooltip text is not enough to convince customers. In this case, the Image tooltip does the rest.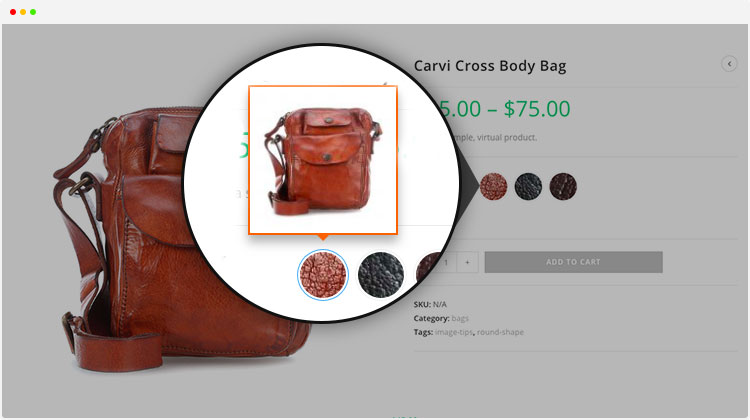 Customizable Tooltip Text
Tooltip denotes the variation details to explain more. It can be disabled and customized the title text and tooltip background from the admin backend.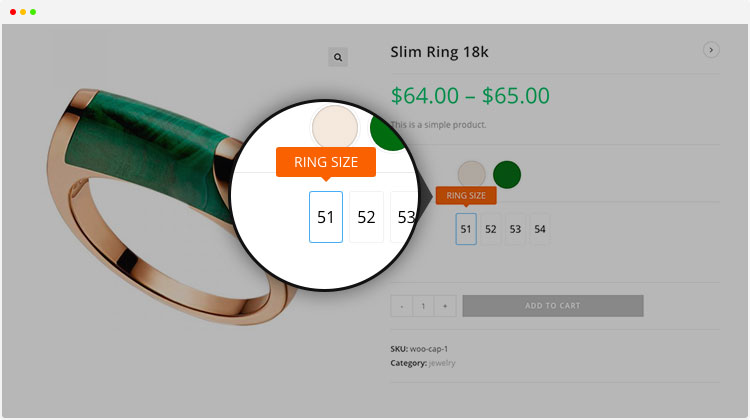 Blur/Hide Out of Variation
Showing out of stock variation seems necessary. So, the plugin offers an option to blur or hide the out of stock variation to simplify the out of stock variation.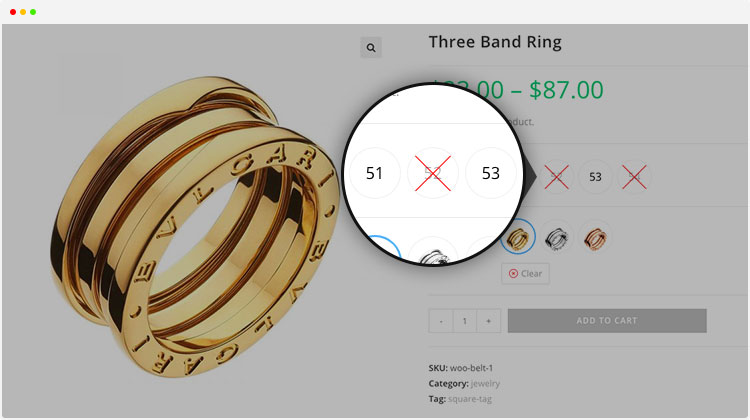 Rounded and Square Shape For Variation
The round and square shape are one of the unique and helpful features of this plugin; when it comes to showing more than two or three characters in swatches or want to add color and image swatch exclusively, you use Square shape instead of Round.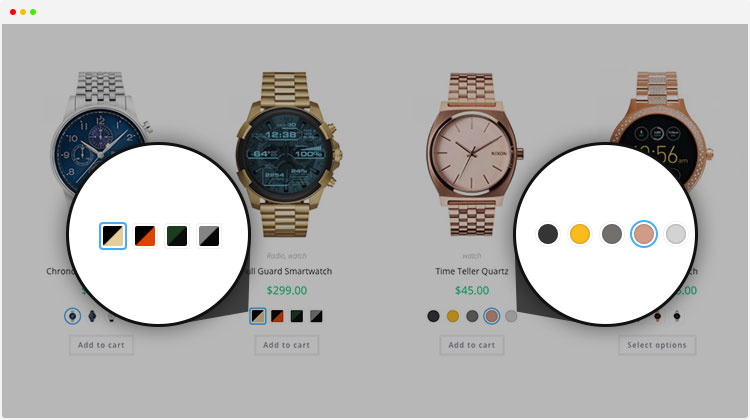 Show Attribute Variation Remaining Stock Quantity
When you are selling products having multiple attribute variations like color and size, it's really essential to show the remaining product variation so that it can help to create an urge to purchase a specific limited variation as soon as possible.
So, we developed this option. It can mesmerizingly show the clients all the remaining stock for variation. I believe it will boost your site usability and boost sales.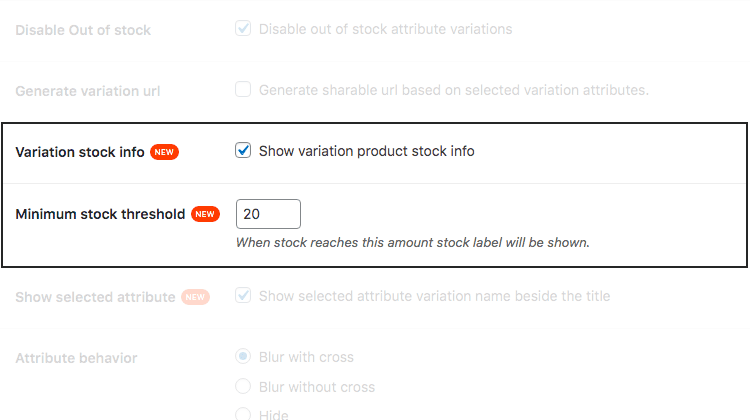 Key Features are Documented
The UX of this plugin is impressive, helps you understand each available feature quickly. It means you don't need to read any manual comprehensively. Despite that, we have added detailed documentation to keep you informed about all features and functions in this swatches plugin. Check our documentation.
Friendly and Quickest Support In the Industry
The maximum number of users of this plugin are developers. We know how quickly a developer needs to finish their job and deliver it to their clients. To help you out quickly, our team is there to assist you. As long as your theme is coded following the standard of WooCommerce, it should correctly work. On top of that, if any issue arises, we are here to fix them out; open a ticket from here.
Get WooCommerce Variation Swatch plugin NOW
Compatible With Major Themes
The only variation Swatches in the market is running 10,000+ websites. It's because it's compatible with majors themes and plugins in the market. It's tightly compatible with Flatsome, OceanWP, Divi, and many more.
WooCommerce Variation Swatches not only offers the color, radio, image, and label attributes in a single WooCommerce product. It also enables them in product quick view. If you're using WooCommerce themes like Flatsome that come with the default Quick View option, you don't need to hassle to load color and image swatches for variable product attributes in quick view separately.
In this WooCommerce attribute variation plugin, besides creating size, brand, image, color, and label variation swatches, you can handle the swatches shape style Rounded and Circle. On top of that, it allows you to show beautiful tooltips on a variation swatch hover. Based on your requirement, you enable and disable hover from the settings. To maximize and personalize your development process, the product attributes swatches comes an option to disable the default plugin stylesheet so that you can personally write your own CSS.
Furthermore, you would find an option to hide and blur out of stock variation, set product image variation swatch sizes based on product image settings in theme, change tooltip background, and text color.
Get WooCommerce Variation Swatch plugin NOW
WooCommerce Variation Swatch also enables/disable swatches product archive pages. The powerful option for this swatch plugin is the variation swatch customization option for each product. Besides adding global attribute variation for each variable product, you can customize them on your need for your desired outcomes.