OptimizePress Review: Should You Buy This Plugin?
OptimizePress is probably one of the oldest builders in the market.
In this review I'll show where it stands now and whether you should use it or not.
If you're a marketer, you know how important it is to create high-converting landing pages, sales pages and funnels.

Today, you can do this with the help of page builder WordPress plugins available in the market. But these builders lack in one thing:
Many builders focus on the aesthetics more than the functionality. There are only a few builders that help you build pages with conversion and marketing goals in mind.
And one such builder is OptimizePress. Let's see more details of this plugin.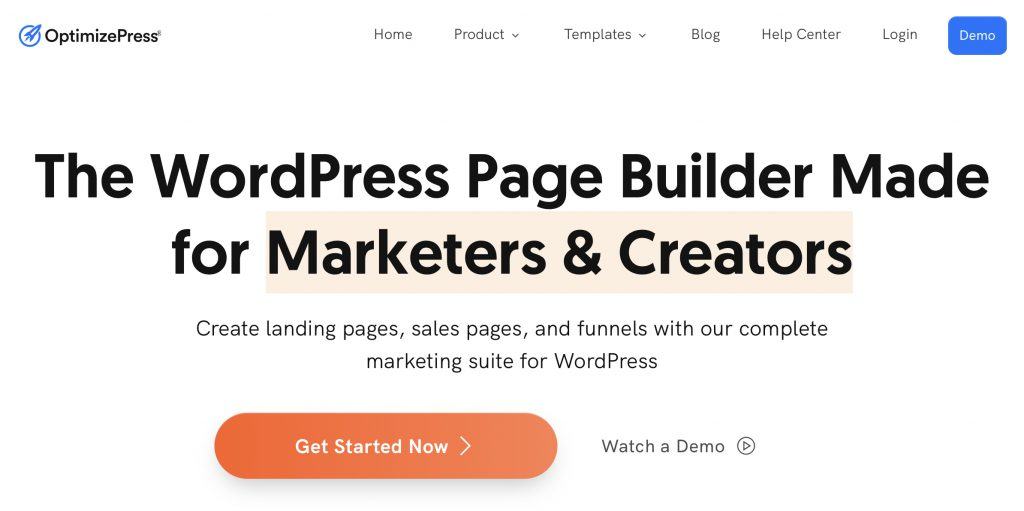 OptimizePress Review – What is OptimizePress?
OptimizePress is a page builder for WordPress that lets you design landing pages, full scale marketing sites, sales page, launch funnels, training pages, and even membership portals.
It is safe to say that OptimizePress is not just a page builder. It can help you manage all your pages on WordPress.
Just like any other page builder, you can create pages in real-time by dragging and dropping elements on the page. It comes with 30+ customizable templates and is fully responsive.
One striking feature of OptimizePress is that it comes in both, theme and plugin formats. So, it lets you use the plugin if you want to use any other theme on your website.
This was just a quick overview of the features of OptimizePress. Let's discuss these features in brief.
OptimizePress Review – OptimizePress Features
Here are some features of OptimizePress that make it a powerful page builder:
1. Live Editor
It offers a live-editor that lets you create pages in real-time. You don't have to refresh, preview, or reload the page to look at your design.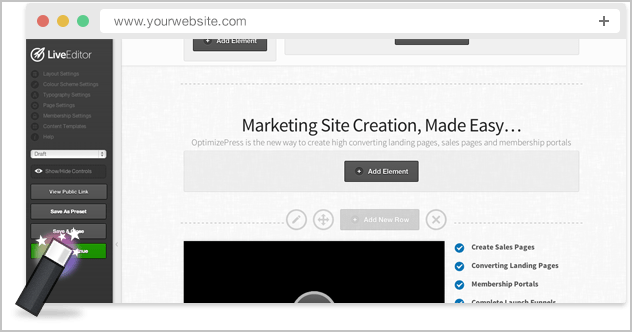 This feature is a must-have in all page builders and OptimizePress offers it. The live editor is very easy to use and you won't face any difficulties in using it.
2. 30+ Templates
OptimizePress comes with over 30 different templates that can be imported and used directly to create your site.
All the templates provided in OptimizePress are conversion-focused and using these templates will help you get high conversions.
3. 40+ Custom Elements
There are more than 40 elements provided in OptimizePress to help you create pages. All these elements can be customized to their own extent by changing different options and styles.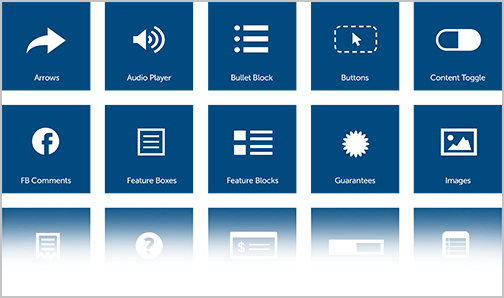 Some elements of the elements included in OptimizePress are:
Headlines
Order Boxes
Testimonial Blocks
Progress Bars
Countdown Timers
Video Player
Audio Player
Content Toggle
Feature Boxes
Facebook Comments
Guarantee Boxes.
4. Fully Responsive
It's important to have pages optimized for different screen sizes. Since the number of people accessing the internet using mobile is increasing fast, ignoring responsive design is a red flag.
OptimizePress is fully responsive and your pages will look stunning in all devices. You can make further changes to your page based on different screen sizes too.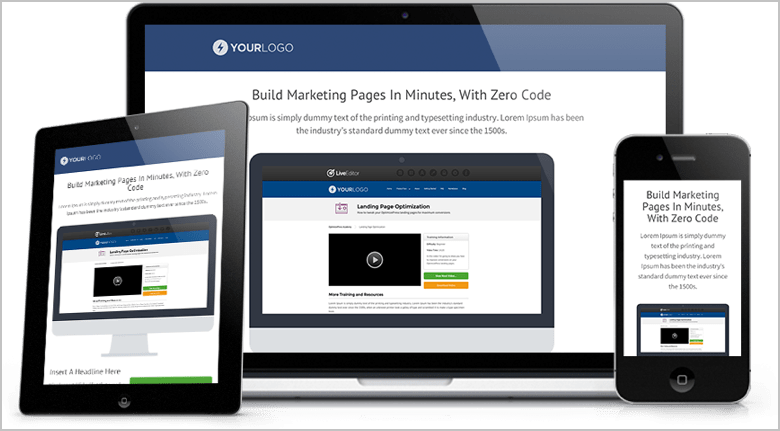 These are some features of OptimizePress. In every page builder, the most important part is the page builder itself.
No matter how good the features are, if the page builder is not good enough, the plugin is of no use. So, let's now discuss the page builder of OptimizePress.
OptimizePress Review – The Page Builder
The OptimizePress page builder is pretty straightforward and you can create a page in 4 simple steps.
The first step is to give a name to your page and select the layout. You can either select a blank page if you want to build from scratch or use a template.
After making your choice, you can then go ahead and design your page in the live editor. If you're using a template, it won't take much time to modify it as the live editor is very easy to use.
All you will have to do is to change the color, text, size of the template to match your website's design.
You can also add extra elements if you want to. There are 40+ elements that can be added in OptimizePress.
Once you've created your page, you can either save it as a draft or publish it directly from the live editor.
OptimizePress also gives you the ability to save your page designs as presets to allow you to use them on other pages.
OptimizePress Review – Membership Portals
OptimizePress can help you create membership sites and portals. This is one of the best features of OptimizePress and no other page builder can do this.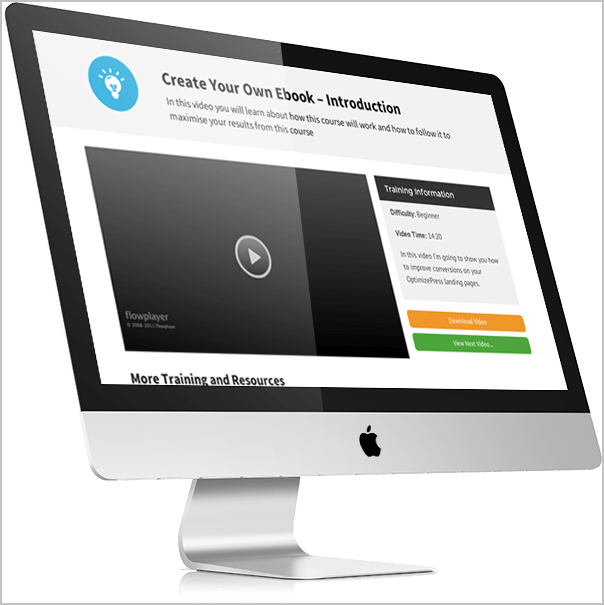 You can create and manage accounts for members using OptimizePress and deliver them content securely.
This can be done by creating login forms, module listings, and breadcrumb trails that can be created easily in OptimizePress.
What I love about this is that OptimizePress helps you save money from buying a membership plugin. Everything can be done in OptimizePress itself.
On top of that, unlike many membership plugins, OptimizePress gives you full control over the design of the pages.
You can control the design of the login page, module listings, and more.
It also supports many integrations so that you can make the most out of your membership portal. Some integrations that are supported are PayPal, InfusionSoft, ClickBank, and Authorize.net.
Here are some features of the Membership Portal provided by OptimizePress:
1. Offer Drip Content
If you're a marketer, you are already aware of what drip content means. Whenever someone joins an email list, they receive emails automatically for over the course of a few days or weeks.
These emails are written, saved, and scheduled for automatic delivery. Such content is called drip content where the content is sequentially delivered automatically from the member join date.
You can create and deliver drip content in OptimizePress. So, you don't even have to spend a lot of time managing your membership portal. You can create the drip content and you're set.
2. Create Packages
OptimizePress is really good at providing a full marketing solution. You have seen many membership sites and courses offer packages. These packages may include content based on the features.
You can create packages in your membership portals and allow only those members who purchased the package to access its content.
3. Build Your Email List
You can integrate OptimizePress with your email marketing provider and automatically export your buyers to your email list.
This way you can create a membership site and grow your email list at the same time.
4. Use Existing Membership Plugins
If you're already using a membership plugin but also want to use OptimizePress, don't worry.
OptimizePress lets you use existing membership plugins and create pages for your locked content.
OptimizePress Review – Support & Documentation
You might be thinking:
I have used page builders in the page but OptimizePress is more than just a page builder. Do they provide sufficient support and documentation.
Well, with a plugin that offers many features different from a normal page builder, it is obvious that there is a need of proper support and documentation.
And OptimizePress has not let us down.
The team over at OptimizePress has made sure that you can use their product without facing any problems. And if you do face a problem, you can get it fixed by their responsive support team.
OptimizePress has a very detailed help page in which you can learn everything about the page builder and how it works.
They have made quick start guides on every topic about their product. This includes documentation on how to use OptimizePress, using membership sites, themes, live editor, integrations, and some advanced tutorials.
Not only this, the FAQ page is quite brief answering almost all the questions you might have about OptimizePress.
But what if you run into an error?
You can read their troubleshooting page that provides solutions to the most common problems faced by OptimizePress users.
Lastly, if nothing is working for you, you can submit a ticket to the team for help.
Thus, it is safe to say that OptimizePress takes providing full support seriously and they have done a really good job in making sure that you don't face any difficulties in using OptimizePress.
OptimizePress Review – Pros & Cons
Let's now talk about the pros and cons of OptimizePress. Though this page builder offers you a lot but still there are a few things that might put you off.
So here are the pros and cons of OptimizePress:
OptimizePress Review – Pros
Perfect for building pages focused on conversions and lead generation.
Stunning templates available for all purposes.
Live editor is very simple and easy to use.
Membership portal can be used to create membership and selling sites.
Plugin is very secure.
Integrations available.
Drip content can be created for your membership sites.
Fully responsive.
Comprehensive support and documentation
OptimizePress Review – Cons
Some templates lack in quality when compared to other builders.
Good for marketers only
OptimizePress Review – OptimizePress Pricing
Let's discuss about the pricing of OptimizePress. The plugin comes offers three pricing plans namely: Essential, Bussiness, and Suite.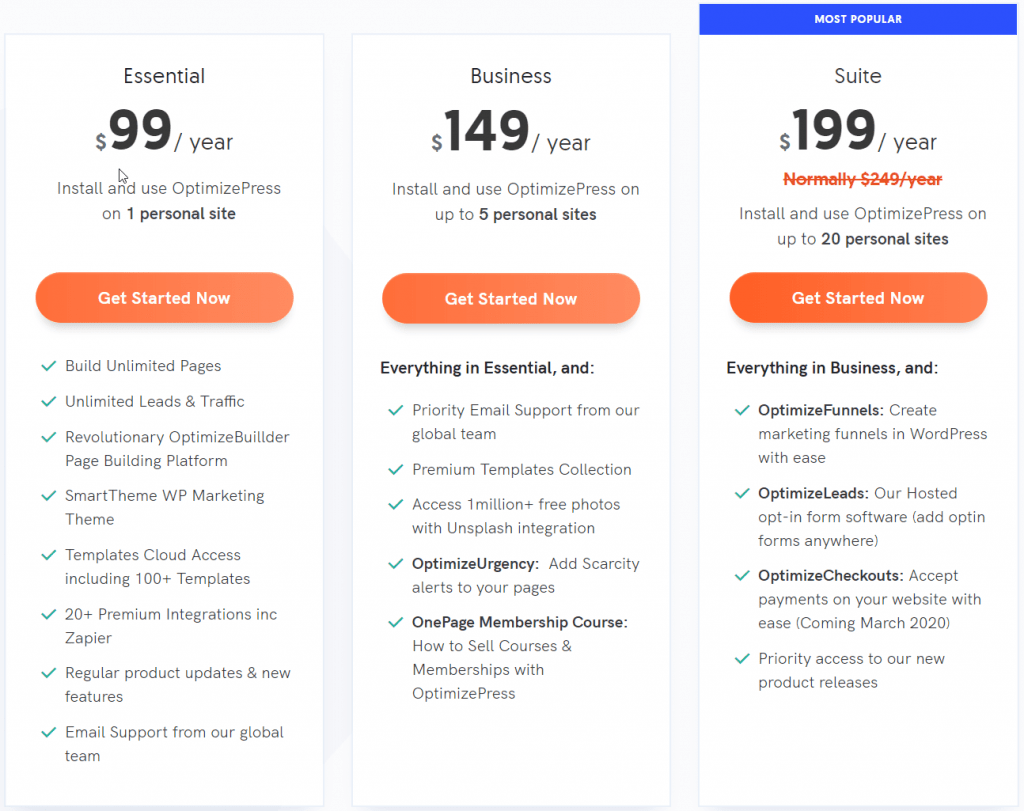 Now that we have seen the features that make OptimizePress worth your money, it is time you consider its pricing plan.
Note that with any of these plans, you will be able to get the marketing power that you need without any problem.
The OptimizePress Plugin will not charge you any hidden fee, but you can cancel your commitment after a while and get a full refund. Besides, you only pay one simple annual fee, and you are set to enjoy all the benefits. To get the Essential package, all you do is that you pay $99 per year. You will be able to install and use it on one personal website.
For the Business package, you only pay $149 per year and get a chance to use it on up to five personal websites. If you have a greater need, you can pay $ 199 per year for the Suite package and use your OptimizePress on up to 20 personal sites.
You will enjoy many other benefits.
However, the people who choose the Essential package useless features than the groups that go for Suite.
Remember that OptimizePress does not offer a trial.
According to credible information from the company's official website, its products are downloadable and, therefore, not suitable for trials.
But that does not mean your purchase is not adequately protected.
The 100% No-Risk Guarantee allows you to get a full refund within 30 days.
So, whether you just want to try your luck with it or test the validity of my claims as to whether OptimizePress is the right for you, you can go ahead and purchase the Plugin.
In case you are not satisfied, you have 30 days to email their team, and they will give you a full refund.
The good news is that they will not ask you any question, but you are guaranteed of this vital service within no time.
However, you need to note that once you get a refund, you will not be able to use the software.
Since an active license is required to be able to access the service, it is a no-brainer that you will not be able to use it on any of your sites.
Benefits of All the Packages
Do not be worried that these three packages come with different rewards if you want to go for the cheaper option.
Any of the packages that you choose will work perfectly well with your preferred WordPress theme.
This means you will still be able to use the high converting opt-in templates to attract and convert more of your leads into your esteemed customers.
Each of them also has monthly coaching webinars.
Through these opportunities, you can learn quickly and build lists in any niche that you choose.
The fantastic support is another thing that you will not miss.
The company's well-train support team is on standby to help you with any issues that may limit your chances of success as you use the Plugin.
Another feature that you will make your life easier despite your choice of package is the comprehensive regular updates.
As we have seen above, the company takes care of the interests of its customers, releases new features, and sends updates regularly to address their changing needs.
All you need to remain in touch with the company and learn the essential changes in time is to stay subscribed.
OptimizePress offers excellent value to customers.
This is why it is accessible.
You may think it is the only Plugin that can meet all your needs.
Some others that have different strengths and weaknesses are Thrive Themes, Clickfunnels, Unbounce, and Leadpages.
You can choose any of them, depending on your needs.
If your main goal is to create a membership site, you are better placed to go with OptimizePress.
You can also use it to build all types of pages.
The only page builder that comes close to it is Thrive Architect.
Just like OptimizePress, it was created with the sole intention of creating high-converting landing pages.
Thrive Architect offers lots of templates that are eye-catching and conversion focused.
Its single-site license cost less than $70, which is quite affordable.
OptimizePress is more expensive.
So you may consider it if your budget is the most crucial factor in your planning.
But if you are looking for great features, such as creating membership sites, then OptimizePress is your perfect choice.
You are welcome to decide based on what matters most to you.