WP Crowdfunding Review – Create a Crowdfunding Website With WordPress
From foot insoles that claim to make you lose weight to the (now extinct) Pebble smartwatch, crowdfunding has been a smashing success. At least when it comes to raising money.
Kickstarter and Indiegogo's top projects have raised tens of millions of dollars, proving that the market is absolutely there for crowdfunding.
Now, you can bring those same crowdfunding principles to WordPress with the WP Crowdfunding plugin from Themeum. If the idea of launching a crowdfunding site like Kickstarter or Indiegogo on your favorite CMS sounds intriguing, keep reading as I take a deeper look at the WP Crowdfunding plugin.
WP Crowdfunding Features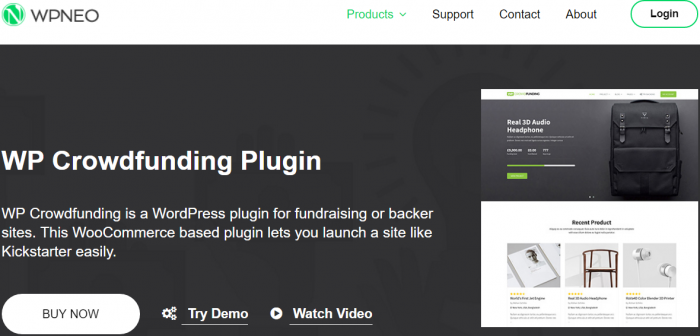 WP Crowdfunding is a free plugin with two premium versions. It's based on WooCommerce, so you'll be able to use the familiar WooCommerce interface on the backend. But it also includes front-end forms so that you users don't need to muck around with the wp-admin dashboard.
I'll list the free features first and then tell you what goodies you get when you go premium.
Free Version:
Frontend submission forms for projects – users can create crowdfunding campaigns without needing to use the wp-admin dashboard.
Reward system for those who fund the campaign (free version is limited to one reward per campaign).
Custom project start/end dates
Optional funding goal
Multiple methods to end campaign – monetary goal, date, or unlimited.
User dashboard to manage profile/campaign details
Basically, the free version will set you up with a basic functioning crowdfunding site, it will just be missing some key features. That's where the premium add-ons come in. They add:
Unlimited rewards for each campaign
A theme designed for crowdfunding sites
PayPal adaptive payments to easily split payments – good for charging commission
Stripe Connect payments
Email notifications
More detailed reports
Google ReCAPTCHA to protect from spam
From reading the different feature lists, you can probably tell that if you're serious about creating a crowdfunding site with WordPress, you'll need to go with the premium version.
You can also check out a live demo of all of these features at Themeum's site.
Hands On With WP Crowdfunding
Now that you know the features, I'll take you through the actual plugin. For the purposes of this review, I'm using the free version of WP Crowdfunding. Everything you see in this section can be done with the version of the plugin that's listed at the wordpress.org plugin directory.
Because WP Crowdfunding is based on WooCommerce, you need to make sure you have WooCommerce installed and activated before you get started. Otherwise, you'll get an error when you try to activate WP Crowdfunding.
Once you activate the plugin, you'll get a new Crowdfunding product type in WooCommerce. You can always create crowdfunding campaigns manually from the backend using this form: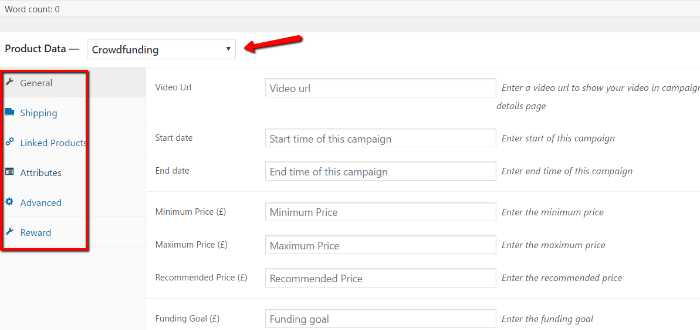 But backend campaign creation isn't great if you're trying to create an actual crowdfunding community. Thankfully, WP Crowdfunding includes a front-end campaign creator for your users.
How to Add Front-end Submission Forms
To set up front-end forms for your users, you just need to add one of the relevant WP Crowdfunding shortcodes to pages you choose. WP Crowdfunding makes it easy to add them by adding a drop down menu to the WordPress Editor: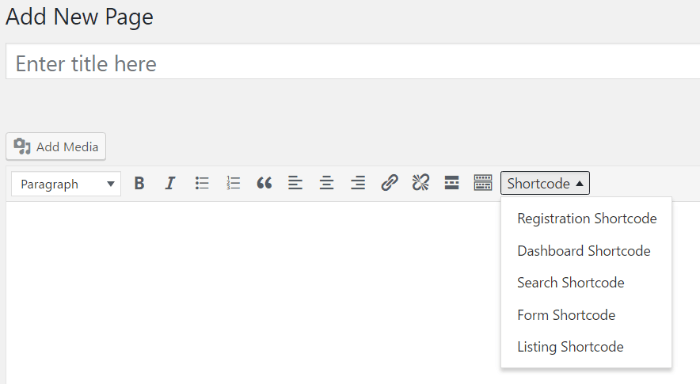 The Form shortcode is the one which creates a front-end submission form for your users: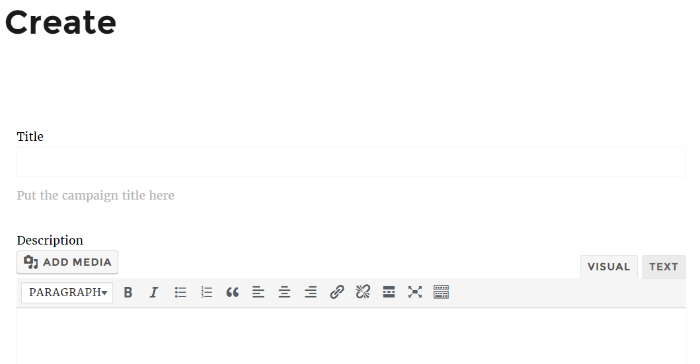 The form doesn't look great with the default Twenty Sixteen theme, so you may need to style it a bit to work well with your theme. But all of the necessary information is there. If you scroll down the form a little bit more, you'll see where users can add all of the nitty-gritty details: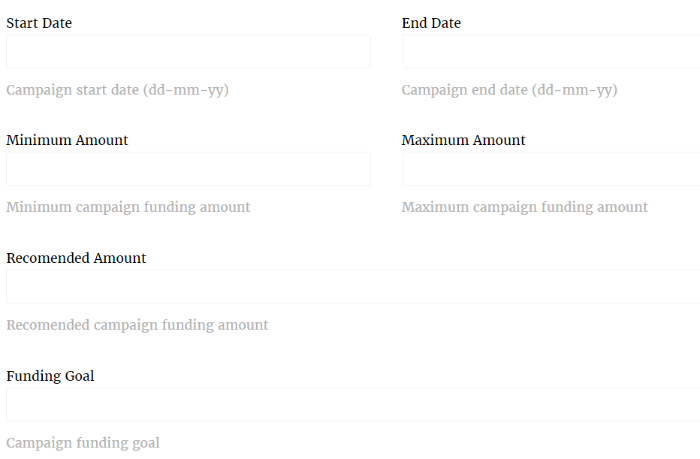 Users can set up their rewards as well on this form: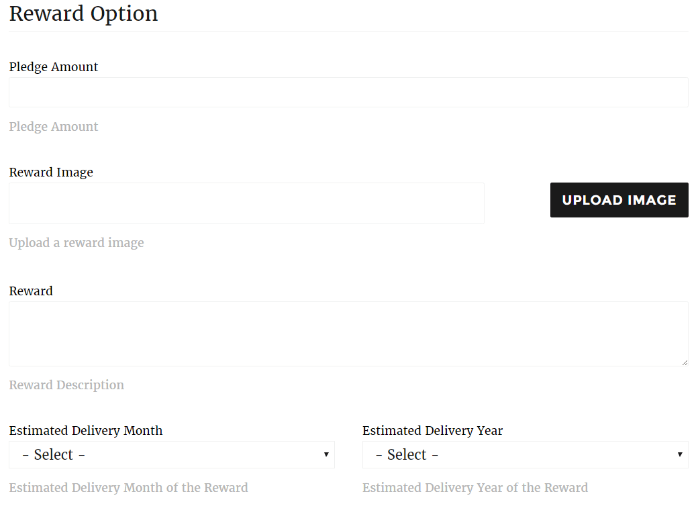 It's hard to create screenshots of the whole form – but trust that all the relevant information is there.
But that length does make me think that the form would be better suited as a multi-page form rather than one long form. Breaking it up into a few different categories would make it more user friendly. The plugin does allow custom templates, so maybe this is something you can do yourself.
Checking Out the Other Shortcodes
The Dashboard shortcode allows you to create a detailed dashboard page for your users: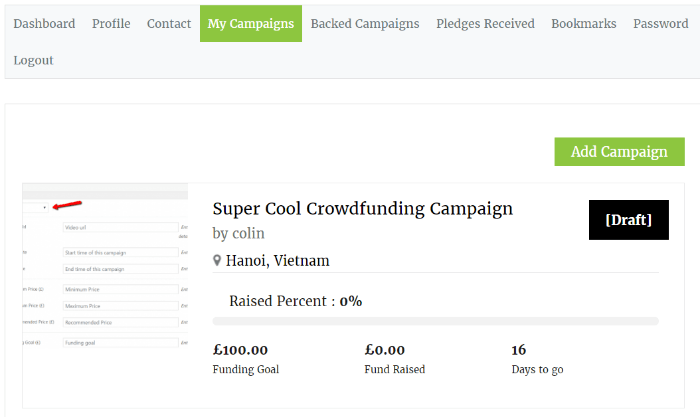 Users can edit their profile details and view all of their campaigns/pledges.
In addition to the dashboard and campaign creation form, WP Crowdfunding also includes shortcodes for:
A registration form
A search page
Individual listing pages
What the Campaign Page Looks Like
I created a quick test campaign to make sure that everything works right: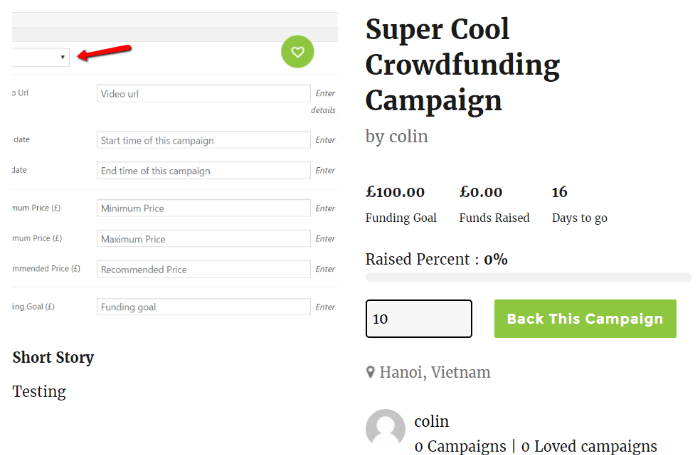 Even on the default Twenty Sixteen theme, I think it looks fine. But you'd probably want to do some custom styling to get it looking more professional.
Users can select their desired reward by clicking on it:
The only thing is that it displays the Reviews tab. I'm guessing this is because of WooCommerce. If your theme displays the WooCommerce reviews tab by default, you'll probably need to dig into the code to remove that (unless you want to keep reviews):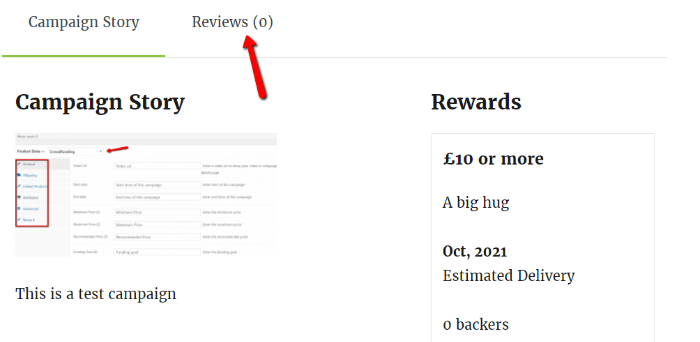 Thankfully, the plugin makes it easy to create custom templates for your listing page. So if you want to tweak how anything looks, you can make a unique template for crowdfunding campaigns.
WP Crowdfunding Settings
I jumped straight into creating a campaign, but you can actually configure a number of settings in the WP Crowdfunding dashboard.
The General Settings tab lets you set a bunch of minor details as well as two important options:
Your funds manager.
Whether or not you want submitted campaigns to immediately go live or require admin approval before displaying.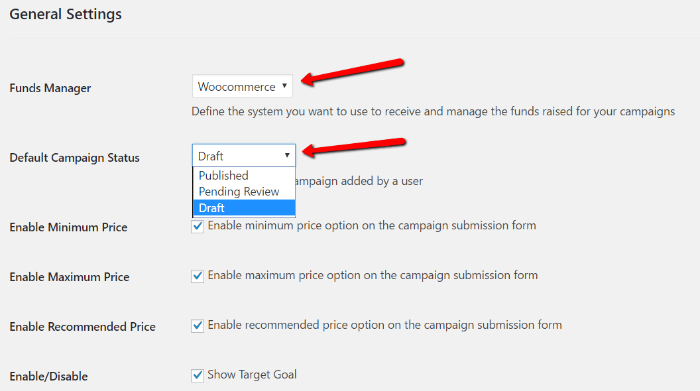 I like that you can manually approve all campaigns (if desired). That should help protect against misuse.
You can also configure some minor details for how your listing page and rewards display: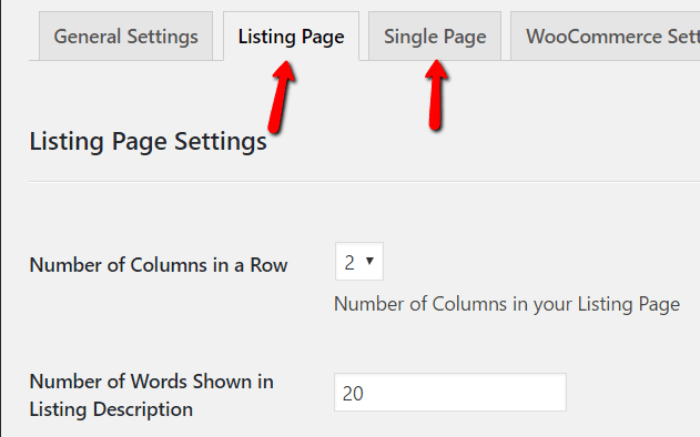 On the WooCommerce Settings page, you can configure whether or not to display crowdfunding campaigns in your regular WooCommerce shop. You can also customize the campaign submission form's text.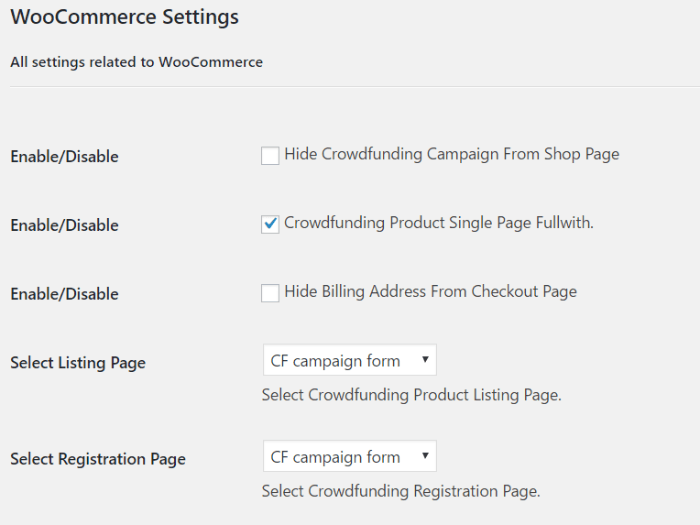 The Styling page lets you do some basic color styling, as well as add custom CSS at the bottom.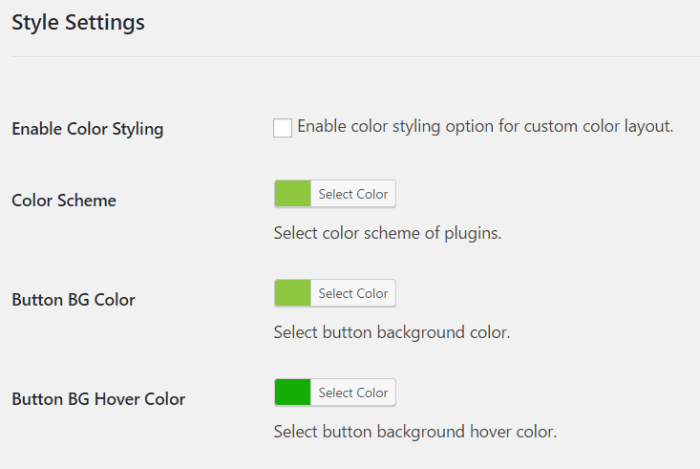 And finally, the Social Share tab lets you set up social sharing options for campaigns: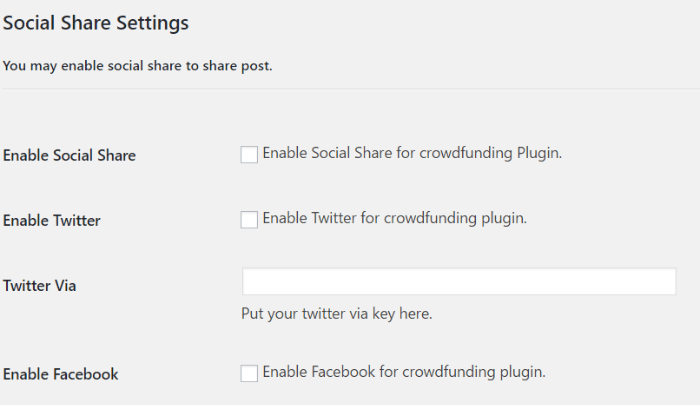 There are also tabs for email notifications and CAPTCHAs, but those are locked behind the premium version.
And there's another menu tab that contains detailed reports, but those are also only available in the premium version.
WP Crowdfunding Pricing and Support
As I mentioned, the version of WP Crowdfunding that I reviewed is 100% free and available at the wordpress.org plugin directory.
Then, there are two premium versions:
Use on one domain
Unlimited campaign rewards
Theme designed for WP Crowdfunding (you can preview the included theme in the demo)
Google ReCAPTCHA add-on
Email notifications add-on
Detailed reports add-on
The Enterprise version includes everything in the Essential version plus two helpful payment integrations:
PayPal Adaptive Payment add-on
Stripe Connect add-on
Use on up three domains
As for support documentation, it's a little barebones. There is a knowledge base but it's not especially detailed.
If you do run into any issues, you can always submit a support ticket. You get one year of support when you purchase either of the premium versions.
Final Thoughts
While the free version is fun to play around with, if you truly want to create a WordPress crowdfunding site, I think you definitely need to go with one of the premium versions.
You'll want to allow your users to offer multiple rewards for their campaigns. And you definitely want access to Stripe Connect or PayPal Adaptive Payments to easily divide payments between yourself and your users.
Also, the included theme is a huge benefit. As I mentioned, with a normal theme, you'll likely need to do some heavy CSS tweaking to make things look good. Whereas with the included theme, everything looks great out of the box.
The demo lets you play around with both the front-end and backend of a fully functioning crowdfunding site, so I definitely recommend checking that out if you're considering the plugin.
Overall, I think WP Crowdfunding is a great solution to create a crowdfunding site with WordPress. It's got everything you need, just maybe not in the free version.