WC Vendors Review – The Best Multi Vendor plugin for Market Place
As you all know WC vendors is one of the best Multi-Vendor Plugin for creating a MarketPlace. To create a Multivendor Marketplace there are lots of plugins available in the WordPress market. But when we talk about WC Vendor plugin it is an all-rounder. As it is a review article we will talk about this plugin in detail. This plugin is a complete Multivendor e-commerce Solution for WordPress. So, let not waste time. Check out WC vendor Plugin features its pros and cons
What are WC Vendors all about?

WC vendor is a one-stop solution for all your marketplace needs. Unlock an exhaustive list of features ranging from a user-friendly interface to commission management to customizing registration forms for your vendors and much much more! This allows other sellers/vendors to sell tangible products, virtual products, or downloads on your site. With this plugin, your vendors receive commissions you set on products they sell from your store.
Features
Their feature-rich plugin allows your users to set up and manage their own stores. Allow them to sell physical, virtual or downloadable products.
Create a marketplace that can sell anything:
You can sell anything from physical, hand-made products to digital downloads like photographs, themes, fonts, audio or video and even time-based bookings with the integration with WooCommerce Bookings.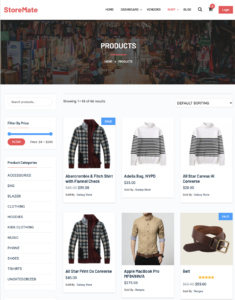 Continue selling your own products: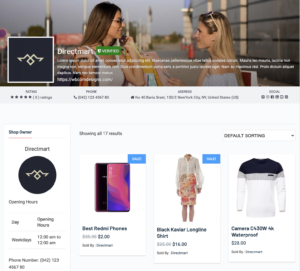 Continue selling your own products by displaying vendor products for sales right alongside your own products.
Set vendor specific commission rates: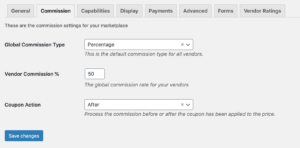 Encourage new vendors to join your marketplace or reward loyal or high earning with vendor-specific commission rates while still setting a separate base commission rate across your marketplace.
Vendors can manage their products:
Give vendors the ability to manage their own products. The vendors can manage all the issues and queries regarding specific products. The admin doesn't need to bother about it.
Don't pay commissions on orders that are not complete:
Provides an option to set commission to the assigned vendors only after the order is complete.
Stay on top of your marketplace with sales reports:
Get an overview of vendor sales, commissions and earnings per month by a vendor.
Delay commission payments to account for returns:
Use PayPal Mass Payments to delay commission payments in case of returns on physical products.
An easy to use admin interface gives the marketplace owner the ability to restrict vendors access to features and functions.
How to use the plugin?
Before installing the plugin make sure that WooCommerce is installed and set up Install WC Vendor plugin and WC Vendors Theme. After you download and install the plugin, you can see the plugin under the WooCommerce section in the dashboard. Click on the plugin and it will take you to all the available options. You can play around and try out the WC Vendor Pro version WC Vendors Demo
Pricing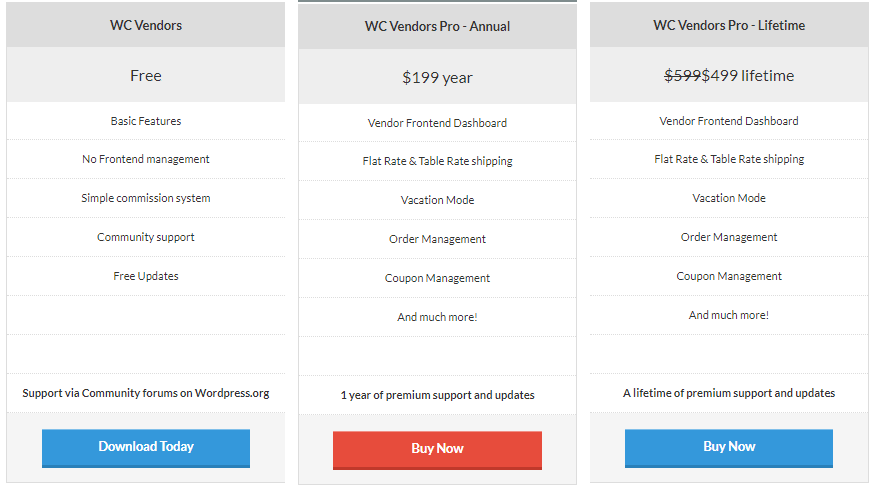 WC Vendors comes in three versions. One is the WC Vendors Free version, another one is the WC Vendors Pro- Annual and WC Vendors Pro- Lifetime.
The free version comes with basic features. It does not have a front-end management. It consists of a simple commission system. The support is through community forums on WordPress.org.
WC Vendors Pro-Annual is available at a price of $199 per year. It consists of a vendor frontend dashboard, Flat rate and table rate shipping, vacation mode, order management, coupon management and much more! It also comes with 1 year of premium support and updates. This is the most popular version among the three versions.
WC Vendors Pro-Lifetime:
WC Vendors Pro-Lifetime is available at the price of $499. It consists of all the features same as WC Vendors Pro-Annual but in this version, you will get lifetime premium support and updates. Once you buy this plugin you will never need to renew it again.
Top features of WC Vendors Pro

As I have already discussed the WC vendors features. If you already using WC vendors now ita time to update it. If you want to use WC Vendors Pro version. Let us check out it's best and updated features that you won't find in WC Vendor free version-
Pro Dashboard making your vendors sales reports a piece of cake
Fully featured front-end product add/edit capabilities
Full Support for all product types, Simple, Grouped, Downloadable, even Variable products are all built into the front end dashboard
Pro Shipping Module so vendors can add per product shipping prices, as well as a country table rate system.
eBay style feedback system for Vendor Ratings
Shipment Tracking for Vendors to enter tracking numbers
Multiple commission types such as percentage, percentage + fee, fixed fee, and even fixed fee + fee.
Vendor-Only coupons that vendors can create to make their own coupons for only their products, admins cannot create coupons for the marketplace at this time.
How did you find it? to know more about its features Buy this plugin now.
WC Vendor is definitely the #1 Multi-Vendor plugin for WooCommerce. This plugin does all that lets you generate revenue from your multi-vendor marketplace. The plugin is designed in such a way that even beginners can get used to it easily. I was new to the plugin while reviewing it but I was comfortable using it within a few minutes time. If you are planning to make your store a multi-vendor marketplace, then WC Vendors Pro is the right choice for you.
The plugin is well designed and developed and it is ahead of its competitors in terms of ease of use, features, pricing, and support. They are also continuously improving their product by frequent updates. It gives you all that you needed from a perfect multi-vendor plugin. This is all about WC vendors review. You can also check about WC MarketPlace Plugin.