Pabbly Email Marketing Review – Pros, Cons & Pricing
This Pabbly Email Marketing Review will help you decide if Pabbly is right for you. Pabbly is one of the most trusted email marketing services available in the market. Not only does this software deal with bulk emailing but it also excels in delivery engines. The world has gone digital and businesses need to match the pace of their customers. We all increasingly need automation systems for our various business processes.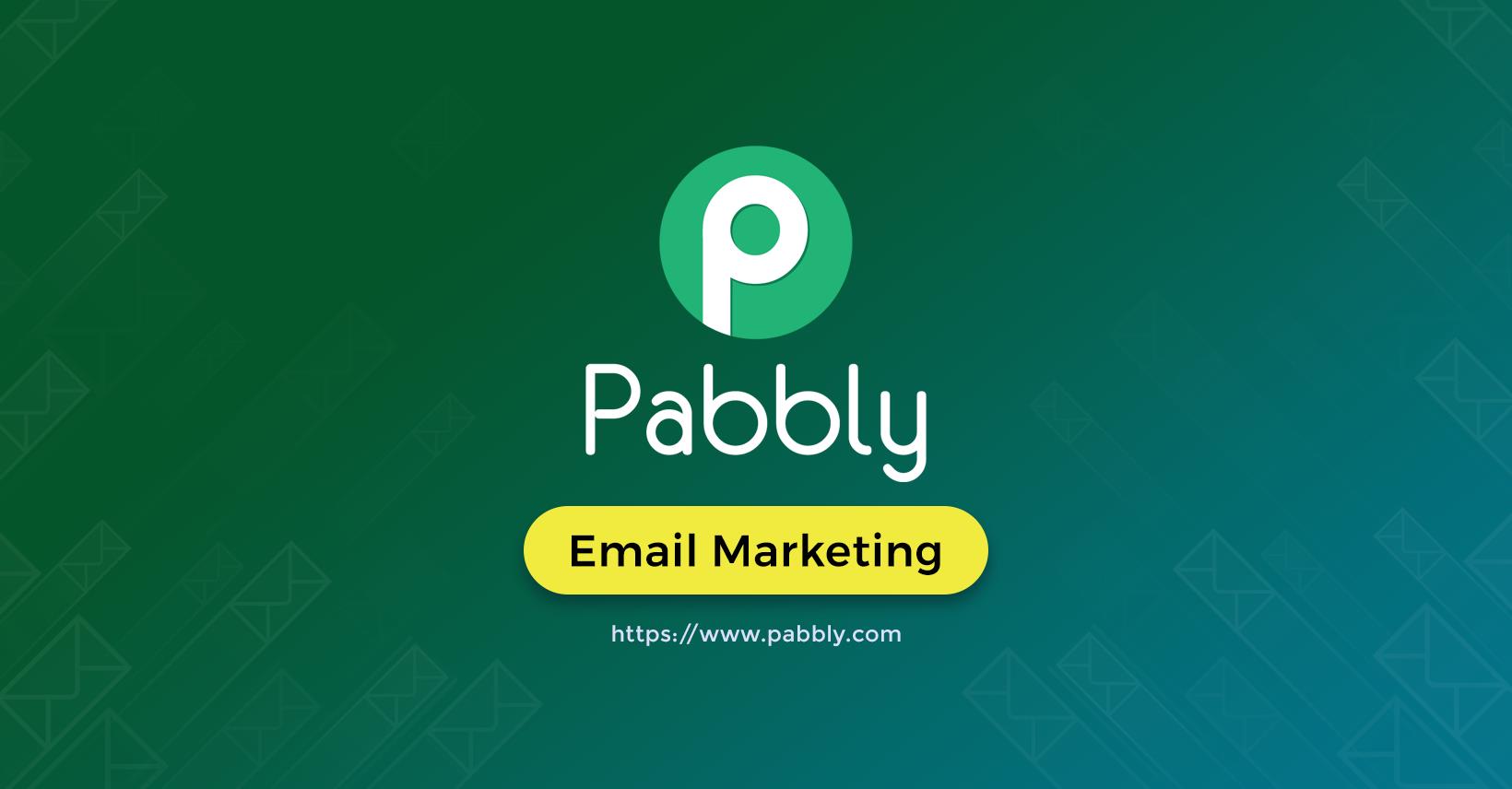 However, automating business requires a lot of software development knowledge. As users, we want a platform that can provide all this automation in just a few clicks without being too techy.
Sending bulk emails is one of those tasks that can at times be daunting. Pabbly email marketing allows you to do exactly that – sending bulk email to your subscribers in just a few clicks.
Pabbly comes equipped with built-in SMTP and the ability to add multiple external SMTPs. With this feature, you can send bulk emails either by dividing them equally or unequally among different SMTPs or you can send them via a single SMTP.
Pabbly Email Marketing gives you full automation to schedule your emails on predetermined factors. This enables your emails to keep the users engage.
Pabbly also comes with an easy drag & drop builder that lets you create powerful template-based emails. In addition, it assures you a 99% delivery rate along with a double open rate thanks to its powerful features.
Pabbly software circumvents email blocking issues often associated with single accounts.
Pabbly Email Marketing Review: What Does Pabbly Do?
Pabbly is actually a sales and marketing platform that offers various tools in one. It is, as you might expect, a software for email marketing tool. It is also a selling/billing software tool.
Then, there is Pabbly Connect. Pabbly has a built-in email builder which comes with multiple templates for ease of sending bulk emails.
It also supports a free built-in SMTP server. In addition, Pabbly offers integration with more than 50 external SMTP servers, like Gmail, Mailjet, SendGrid, SMTP2GO, Mandrill, etc.
Pabbly has a powerful email tracking tool with features such as tracking outgoing email opens, click-throughs, bounce rates, unsubscribes, and more.
Beside this, today's mail marketers highly appreciate any tool that gives them the option of pre-scheduling emails/email campaigns.
Above all, the Pabbly's email marketing tool makes it very simple and easy to reach your potential clients and it does not require installing any software.
Pabbly Email Marketing Review: Who Is Pabbly Best Suited For?
Pabbly can be very handy for any user or organization, particularly small businesses with bulk email and online sales operations. Pabbly's features can also be of tremendous help to facilitate complex invoicing and billing needs.
Even though it is labeled an email marketing tool, it is very useful in many other functions, including a variety of payment services ranging from sale order proceeds to recurring subscriptions collection, affiliates' remittances, and more.
Affordability
Pabbly Form Builder is one of the most affordable and trustworthy form builders in the market. You get unlimited use of every feature at single pricing of $10 per month. You also get unlimited form submissions, payment collections, Webhooks, etc.
With other services, you might experience certain limitations with features such as submission volume or storage. With the Pabbly Form builder, there are again no restrictions in using the features offered.
You just pay the nominal amount and you are ready to go, starting with creating amazing forms. This service comes with a choice of templates through which you can create eye-catchy forms, or you can build them using their powerful drag & drop builder.
==>> Click Here To Get Pabbly Email Marketing Today <<==
Pabbly Email Marketing Review: Pabbly's Pros & Cons
Pros
Intuitive Software: Pabbly's software is highly intuitive and accompanied by an equally user-friendly dashboard. It is fairly straightforward with no need for extensive or deep-tech knowledge.
Easy to Set Up: Pabbly is designed very well and makes getting everything set up uncomplicated. For most, getting started won't take very long.
Multi Integrations: Pabbly is designed to integrate with more than 50 external SMTP servers beside its own. It also works well with other marketing platforms such as Asana, PayPal, Ohmylead, Dropbox, to name a few.
Affordable: Unlike many other email marketing platforms, Pabbly is very affordable and offers a free option to allow you to get to know some of the features and learn how to use them before making the leap.
Cons
SMTP service can be confusing: Although Pabbly's built-in SMTP service is a great selling point, it can be challenging to actually use. Also, you must request approval to use it and your application may be rejected. If you do get approved, you are limited to 500 emails initially. That number does increase, but is not an ideal starting point for most marketers.
No Mobile App: Pabbly offers users a powerful web app that is compatible with Mac and Windows, but strangely enough, there is no mobile app.
This means that many of the integration options that Pabbly has, such as Zoom and Freshbooks, cannot be taken advantage of on mobile devices.
Pabbly Email Marketing Review: Where Does Pabbly Shine?
Inbox Preview
This feature allows you to see how your email would look upon reception.
Subscriber Segmentation
With Subscriber Segmentation you can divide your email list into groups according to their interests, age, location, or any other criteria that you think is important for your business.
By segmenting your list, you can send out more personalized emails which will lead to higher conversion rates because your target audience will feel like you are speaking directly to them.
Email Tracking
Email Tracking allows you to see when your email was opened, clicked, and how many times it was forwarded. With this information, you can see which of your emails are being read by your target audience and which ones are not.
This is useful to improve your email marketing by making changes to the subject line, the content, or the call-to-action of your email and by testing what works best.
MailGet API
The Pabbly MailGet API feature enables you to connect your Pabbly account with your website or any other third-party software. With this, you can automate your emails and save a lot of time.
Email Scheduler
Another great feature that Pabbly offers, which could cost more by having to get it through other more expensive services, is the Email Scheduler. It allows you to schedule your emails in advance — a necessity for serious email marketers.
Freehand Coding
Pabbly Email Marketing also offers Freehand Coding which allows you to code your own HTML email template. This gives you the freedom to create a custom email template that is specifically designed for your business.
Email Deliverability
If you are looking for an email marketing software that allows you to see how many of your emails are being delivered to your target audience's inbox, you will love Pabbly's Email Deliverability. It aims to improve your email deliverability rate by ensuring that more of your emails are being delivered to your target audience.
Spam Checker
Struggling with bulk emails not reaching your audience? Pabbly's Spam Checker helps you weed through the content of the bulk emails that you send to your subscribers and remove any spammy content that they might have so that bots won't kick them off.
==>> Click Here To Get Pabbly Email Marketing Today <<==
Pabbly Email Marketing Review: FAQs
Pabbly Email Marketing delivers a software that allows you to create and send newsletters, email campaigns, and other types of emails. Of course, it also provides you with a number of features that are designed to help you improve your email marketing and other associated services.
Now, let's take a look at some Pabbly Email Marketing FAQs that you might find useful for your business.
Is Pabbly Email Free?
Pabbly has a free plan which allows you to send unlimited emails to up to 1000 subscribers. This comes with all of the features mentioned above except for the MailGet API and the Freehand Coding.
Pabbly Email Marketing Pricing
Pabbly has a pay-as-you-go pricing model which means that you only need to pay for the credits that you use. One credit is equivalent to one email sent to one subscriber. The price of a credit depends on the number of subscribers that you have on your email list.If you have less than 500 subscribers, the price of a credit is $0.01. If you have between 501-1000 subscribers, the price of a credit is $0.008. And if you have more than 1000 subscribers, the price of a credit is only $0.005.Pabbly also offers discounts if you purchase credits in bulk. For example, if you purchase 100,000 credits, the price of a credit is only $0.001.This makes Pabbly one of the most affordable email marketing software on the market.

Pabbly also offers a monthly subscription plan which starts at $29/month for up to 5000 subscribers. The monthly subscription plan includes all the features plus some additional ones such as auto-responders, advanced segmentation, and more.
==>> Click Here To Get Pabbly Email Marketing Today <<==
30-day money-back guarantee
Pabbly offers a 30-day money-back guarantee. With this, you can try out the software and see if it is right for you. If you are not satisfied with the software, you can cancel your account within 30 days and receive a full refund.
1,000+ video tutorials
Pabbly also offers more than 1,000 video tutorials to help you get the most out of the software. You can learn how to use all of the features offered plus some additional ones such as auto-responders, advanced segmentation, and more.
Cancellation/Refund Policy
Pabbly will refund your purchase as long as the services disputed are so for reasons that are not in conflict with their Terms and Policies. You will receive your refund within seven days of your purchase and no refund requests will be accepted beyond the 7th day.