MasterStudy Theme Review: A Premium LMS Theme for WordPress
In today's digital world, the trend of websites offering online learning services is on the rise. This is because of the various tools that are accessible and affordable to the masses. Besides, it is also a profitable niche, where you can start with minimum requirements.
MasterStudy is a well-known LMS and educational theme with a good purchase count and customer reviews bundled with the MasterStudy LMS plugin developed for delivering online courses and training.
Having a website is your basic requirement, and the MasterStudy theme is what you need to build a good educational website. It is a professional education and LMS tool, designed to create high-quality platforms for e-learning give MasterStudy Theme a Boost With Cloudways Managed Hosting businesses.
The functionality, design, and features of the theme are based on thorough research of the education and learning industry.
The MasterStudy theme is a fully packed WordPress LMS theme developed by StylemixThemes. They are Power Elite Authors for everyone who wants to indulge in online courses, coaching, language centers, e-learning platforms, and delivering knowledge worldwide.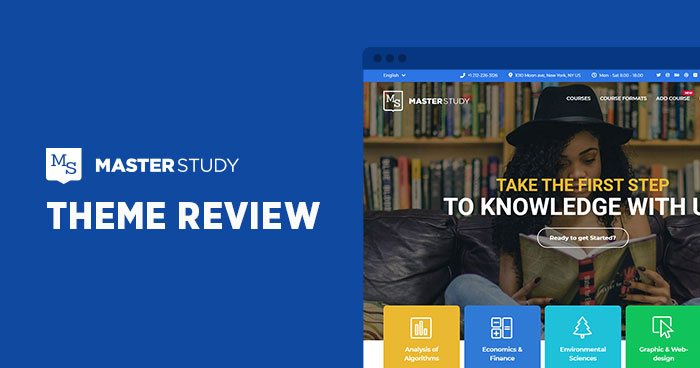 Donwload | Live Demo | More information
Why Should You Use MasterStudy Theme?
Being developed specifically for educational needs, MasterStudy will become a universal software for different institutions.
If you are a school or university representative, a seasoned coach, language center owner, individual instructor, or even an entrepreneur working in the educational field, the MasterStudy theme will help you to reflect on your objective and achieve your goals.
With MasterStudy, you will be able to create e-learning platforms like Udemy or Treehouse.
MasterStudy is a popular LMS theme with 15,000+ sales on theme forest and it has secured an excellent 4.8-star rating on over 573 reviews. The theme was first published in July 2015 and last updated in October 2021. MasterStudy theme releases regular updates, that highlight product consistency, and show that it will be around for the long haul.
MasterStudy vs WPMLS vs Eduma Themes Comparison
| | | | |
| --- | --- | --- | --- |
| Features | MasterStudy | WPML | Eduma |
| Basic Information | | | |
| Pricing | $69 | $75 | $69 |
| User Ratings | 4.80 (579 ratings) | 4.50 (1,645 ratings) | 4.88 (1,866 ratings |
| Sales | 15,254 sales | 26,292 sales | 33,406 sales |
| Gutenberg Optimized | No | Yes | Yes |
| Documentation | Well Documented | Well Documented | Well Documented |
| Layout | Responsive | Responsive | Responsive |
| Integrations | | | |
| Elementor | Yes | Yes | Yes |
| WPBakery | Yes | Yes | Yes |
| Zoom Video Conferencing | Yes | Yes | Yes |
| Stripe | Yes | Yes | Yes |
| PayPal | Yes | Yes | Yes |
| WooCommerce | Yes | Yes | Yes |
| Udemy Affiliate | Yes | No | No |
| MailChimp | Yes | No | No |
| Support | | | |
| 24/7 Premium Support | Yes | Yes | Yes |
| Theme Features | | | |
| Student Forums | Yes | Yes | Yes |
| Groups Creations | Yes | Yes | Yes |
| Messages & Notifications | Yes | Yes | Yes |
| User Profile | Yes | Yes | Yes |
| Drip Content | Yes | Yes | Yes |
| Quizzes & Results | Yes | Yes | Yes |
| User-Friendly Interface | Yes | Yes | Yes |
| Live Streaming Lessons | Yes | No | No |
| Google Classrooms | Yes | No | No |
| Assignments | Yes | Yes | Yes |
Compatibility of MasterStudy
The MasterStudy theme requires some features that are essential and recommended for optimum performance. Let's see what these compatibilities are:
WordPress Version Compatibility
The MasterStudy theme is compatible with WordPress versions 5.6, 5.7, and 5.8.
Browser Compatibility
The browsers that are compatible with the MasterStudy theme are:
Internet Explorer 11
Firefox
Safari
Opera
Chrome
Microsoft Edge
How To Install MasterStudy Theme on WordPress?
After understanding these requirements, it's time to look at the installation process. Before installing the MasterStudy theme, make sure that you have installed WordPress on your hosting platform. If you are a Cloudways user, you can enjoy a one-click WordPress installation.
You can easily install the MasterStudy theme by following these simple steps:
First, purchase the

 

MasterStudy Theme

 

from theme forest.
After successfully downloading MasterStudy, go to your

 

WordPress Dashboard > Appearance > Theme, click the

 

Add New

 

button, then click on the

 

Upload Theme

 

button.
Now, click on the

 

Choose File

 

button and select your downloaded MasterStudy theme.
Click on the

 

Install Now

 

button and after successful installation,

 

activate

 

the theme.
It takes a little time, so be patient and wait for the process to complete. After the installation, click on the activate button to activate the theme.
MasterStudy theme is now successfully activated on your website. Now, it's time to discuss the MasterStudy features.
1-Click Demo Import
MasterStudy comes with the best demos, allowing you to build a functional and beautiful educational website. The theme has 15 unique demos to choose from. You can find standard, classic, as well as modern templates to choose from. Try one of them to make sure it fits your website.
Simply select your favorite template and install it. Thanks to the fast and automated demo, importing only requires a few clicks.
MasterStudy LMS Plugin
The MasterStudy theme comes with the premium version of the LMS WordPress plugin that gives you access to a variety of additional helpful features. With the plugin, the course-building process will turn into an enjoyable experience.
LMS opens up so many opportunities to make your educational website even better. Among options available, there are different types of lessons, live streaming sessions, advanced quizzes with a vast selection of questions types, paid memberships, payment integrations, teachers and student profiles, and much more.
Course Creation
A combination of the MasterStudy theme and LMS plugin results in easy course building, which is a key advantage. Besides the admin panel, instructors (if there are many) can build their own courses with the help of a frontend course builder.
It has the same functionality as one in the backend and provides everything you need to create a high-quality course. You can control every aspect of the content, starting from the title all the way to the quizzes and lessons.
Courses support different types of media files, variations of lesson types, FAQs section, prerequisites, and much more. You can set up lessons exactly as you want and an intuitive builder will not limit you.
Monetization Options
Integration with the WooCommerce plugin makes listing courses very easy.
You can organize and structure courses and classes based on a variety of categories, and select preferable layouts to display listings. This allows you to highlight the featured offerings, and add a countdown-style event to point out the urgency of some courses and seminars to gain more enrollments.
There are many helpful, free extensions available for WooCommerce. They can really upgrade and enhance your website's functionality.
The theme is also integrated with several online payment gateways. Among them, PayPal and Stripe are well-known. The future students enrolled on your platform will be able to buy subscription plans and set recurring payments.
In addition, you can benefit from affiliate programs. Affiliate marketing is a popular technique used to promote your products and services.
User-Friendly Interface
One of the main advantages of MasterStudy is its simple interface. Everything is created for users' convenience. It is very easy to navigate through the site and with the help of multiple design tools you can professionally emphasize key features on the pages.
Website users will be able to add courses to their wishlist. They will save classes they liked on the website itself, and keep them for purchase at a later time. People also can rate courses. Once you enable a course rating system, learners can leave their rating opinion and help others to evaluate the content.
There are other options as well that a course creator can control in order to deliver the best appearance and structure. For example, the course style with the kit of style options regulates the look and feel of the course.
Teachers and Students Profiles
MasterStudy provides the best experience for users because of the highly automated and flexible administration system. The instructors and students have their personal profiles on the website. Such a structure helps to control the administration of the platform.
Instructors can access different parts of the website using their personal page; they can reach out to students' activities, courses, statistics, and other options.
For students, their fully managed user profiles serve as personal pages and contain all the needed information. By using their profiles, users get access to the messaging system and they can directly communicate with each other.
MasterStudy allows you to create announcements that enable instructors to notify students about important news. Using this announcement system, instructors can communicate deadlines, updates, and relevant information to students.
Drag-and-Drop Page Builder
The theme comes with the WPBakery Page Builder, making it easy to construct any pages and posts. When it comes to designing and adding content to the pages, this drag and drop builder provides a lot more flexibility. This makes it easy to build beautiful, well-designed, and responsive layouts for your content.
​​A Beautiful Theme Needs a Powerful Environment to Thrive!
Launch Visual Composer page builder on powerful Cloudways servers in 1-Click & fly towards success.
GET VISUAL COMPOSER
Moreover, the Visual Composer plugin goes in the package with different elements. Thus, you get plenty of options and types of elements and content that you are able to add to website pages. Those elements and modules include cover sliders, charts and graphs, pricing tables, icons, and other course-related content.
MasterStudy Reviews
One of the very helpful features that definitely attract more interest to your courses and website, in general, is the reviews. Reviews enable students to publish their impressions after taking classes. Reviews are considered as social proof and give other visitors valuable insight into what you offer.
Professional Support
To satisfy customers with the MasterStudy WordPress theme, the team at StylemixThemes provides free support to resolve any questions or issues you might have. Ask your questions using the Ticket System at StylemixThemes.
Technical support includes:
Availability of the author to answer questions
Answering technical questions about item's features
Assistance with reported bugs and issues
Help with included 3rd party assets
There is a PDF user manual for the theme that covers all of the main features and aspects of the theme to help you build the education-related website you've been planning without issues.
The development team also offers a premium WordPress support service. For a fixed fee each month, you can get unlimited small jobs carried out on your website, as well as security monitoring and site optimization.
Final Thoughts!
Education WordPress Theme for the Learning Management System has been specially designed as the perfect solution for your education business. The theme is powered by the MasterStudy Pro plugin, which is already included in the theme bundle. This is the only software you need to build a complete e-learning platform.
The MasterStudy theme was developed using a range of first-class features that will make it easier and save your time while creating a product you want and delivering excellent results. As the ultimate education software, this WordPress theme makes it simple and hassle-free to build, customize, and manage the site.