Add Text to Video: Everything You Need to Know
More and more businesses are choosing to add text and captions to their marketing videos, for good reason. For videos with captions/subtitles, 80 percent more people watched the entire video. Millions of videos are produced and uploaded throughout the Internet every single day, so it's important for yours to stand out.
Adding text to video is one way to ensure this happens. Below I've detailed a list of reasons why you should jump on the text to video bandwagon, as well as a review of 3 popular video tools.
Wave.video Coupons & Special Offers
Why add text to video?
Lots of people watch videos with the sound off. The majority of videos on major social platforms like Twitter and Facebook are watched with the sound off. To make sure you get your message across to your audience, it's a good idea to add text to video.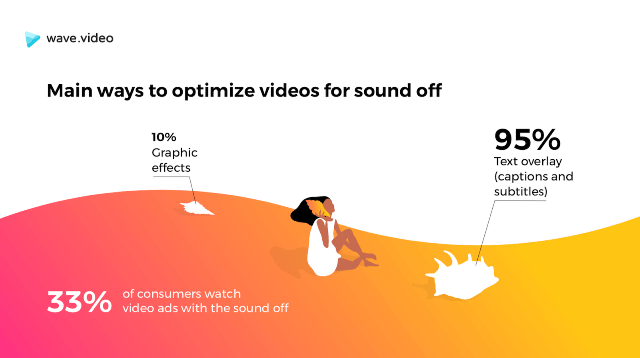 Adding text to video makes your content accessible to everyone. There are 350 million people in the world who have troubles hearing, and text in videos makes that content accessible to them.
It also makes it accessible to the millions of people who don't have English as their native language, as they have the opportunity to translate the text in the video. They also might not understand the words if they are spoken too quickly, but they can pick up what they're missing in the written text.
Text in videos also contributes to a boost in SEO. Text boosts SEO because it makes it easier for people to find your videos online. Search engines can't "watch" videos- they crawl for text. By adding captions, you're making your videos available to people who are searching for specific keywords and terms. See below for tips on improving your SEO by adding text to video.


Text can get people invested in a video before it even really starts playing. It takes people a lot longer to watch a video and understand what's happening when there aren't words to guide them in the right direction. A little well-placed text at the beginning of a video can hook an audience quickly and prevent them from scrolling right on past your video.
Text also increases viewing time by as much as 40%. Think about it- text keeps users engaged longer, so they watch longer. In addition, it takes people more time to both watch a video and read text, so automatically they're spending extra time on your video. It's a win-win.
As I said before, search engines can't watch videos but they CAN read text. Therefore, you want to add as much text to your video as you can without it taking away from your message. One way to do this is by placing a transcript of your video on your website.
What is a transcript?
A transcript is just the written text version of the content that's spoken in the video. Search engines can then easily find the transcript, index the content, and rank your site accordingly. This is much more effective than having them index your site based on the title of the video or description alone.